---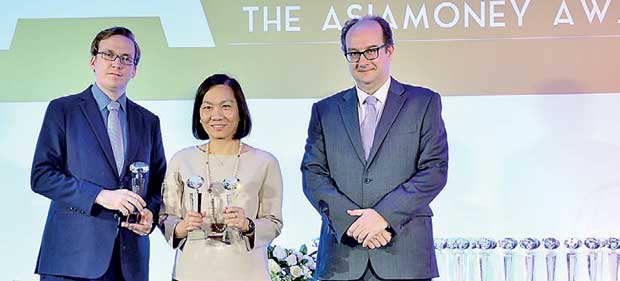 HSBC has been named Best Overall International Bank for Belt and Road Initiative (BRI) in the inaugural Asiamoney New Silk Road Finance Awards, reflecting the bank's commitment to being the leading financial partner to clients engaged in Belt and Road projects.

At an awards ceremony in Beijing earlier this week, Asiamoney also recognised HSBC as the:
Best Bank for BRI-Related Infrastructure Finance in Southeast Asia
Best Bank for BRI-Related Infrastructure Finance in South Asia
Best Bank for BRI-Related Finance in Central & Eastern Europe
Best International Bank for BRI in the Middle East & Africa
The US$ 2 billion Gemas-Johor Bahru Double-Tracking Rail Project, part of the Kunming-Singapore Rail Link, was also awarded Best Overall Project/Initiative for BRI. HSBC was mandated as the principal bank to the project, providing comprehensive trade finance, cash management and foreign exchange services.

Peter Wong, Deputy Chairman and Chief Executive, The Hongkong and Shanghai Banking Corporation Limited, commented: "We are proud to win this recognition from Asiamoney. HSBC's universal banking model and global network means that we are uniquely positioned to meet all of our clients' financial needs as they engage in Belt and Road-related business. We believe the Belt and Road will create a wealth of opportunities for our clients and we look forward to providing them with outstanding services across financing, advisory, risk management and
transaction banking."

In its coverage of the award for Best Overall International Bank for BRI, Asiamoney said: "HSBC was undoubtedly a worthy winner this year. It has always straddled continents, starting life financing trade between Asia and Europe. The bank has Belt and Road in its DNA. This pedigree has long been an advantage to HSBC, but it now looks more valuable than ever before."

HSBC was also recognised at the ceremony for its leadership in offshore Renminbi (RMB) services, having been voted Best Overall Provider of Offshore RMB Products and Services in Asiamoney's Offshore Poll 2017 for the sixth consecutive year. The Bank also claimed a series of Asiamoney's awards for banking in different Asian markets, including Best International Bank in China.

Mark Prothero, CEO of HSBC Sri Lanka and Maldives commented, "Sri Lanka's location advantage combined with the strategic expertise and the network capability of HSBC sets the perfect stage for the country to reap the benefits of the Belt and Road Initiative. We have been in Sri Lanka for over 125 years and have actively supported the development of the country's infrastructure. The recent Sinosure-supported financing of the renovation of the country's main runway at Bandaranaike International Airport, through the state authority that manages the airport, is one of the most recent examples".