---
HNB Assurance PLC (HNBA) unveiled its Group Life product, offering four predefined packages that businesses could choose from in providing the financial protection that their staff need.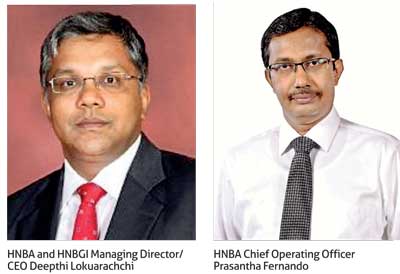 Speaking on the importance of providing a solid platform of protection to employees, HNBA and its fully-owned subsidiary HNB General Insurance Limited (HNBGI) Managing Director/CEO Deepthi Lokuarachchi stated, "We live in a period of time of rising costs and risks. In a tight economic backdrop, the small and medium-scale enterprises (SMEs) find it challenging to provide solid forms of protection plans for their employees due to the higher underwritten premiums or under-evaluating the risk component associated.

The SMEs in Sri Lanka play a major role in today's economy as they uplift economic diversification. The Group Life product of HNBA is a lot more than a spring of protection for your employees. It provides a number of benefits to both the employees and the comfort of knowledge to the employers, that your employees are very well protected.

Further, the employers are able to benefit from this as a strategic measure in line with their human resource practices in order to cement and strengthen their employee-employer relationships as well the psychological contract with the organisation, as we firmly believe that motivated and happy employees reflect the true values of an organisation."

HNBA Chief Operating Officer Prasantha Fernando elaborating on this product added, "The companies could choose from one of the four packages that we have to offer that ranges from just providing a basic life cover for one's staff, to providing an annuity, to offering a comprehensive bouquet of covers that include critical illness, disability cover and hospital cash."

HNBA is one of the fastest growing insurance companies in Sri Lanka with a network of 56 branches. HNBA is a life insurance company with a rating of A (lka) by Fitch Ratings Lanka for National Insurer Financial Strength Rating and National Long-term Rating.