---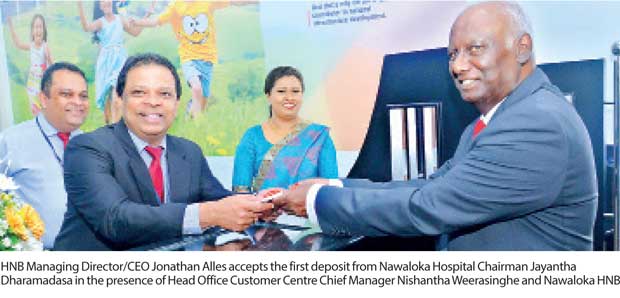 Sri Lanka's most popular retail bank, Hatton National Bank PLC (HNB), announced the relocation of its Nawaloka Hospital customer centre to the second floor of the newly constructed multi-storey Specialist Centre at Nawaloka Hospital.

Designed to provide customers, patients and doctors with a new paradigm in banking convenience, the launch of the newly opened Customer Centre was attended by prominent officials from both Nawaloka Hospitals and HNB, including HNB Managing Director/CEO Jonathan Alles and Nawaloka Hospital Chairman Jayantha Dharmadasa.

Following the opening, customers can now enjoy a complete spectrum of banking products and services including automated cheque deposits, real-time transactions and digital account opening facilities from 10:00 a.m. to 5:00 p.m. on weekdays and 9:00 a.m. to 1:00 p.m. on Saturdays.

Speaking at the opening ceremony, Alles said, "HNB's relationship with Nawaloka Hospitals and the many thousands who come to this remarkable facility to work or to seek medical care is one which has been formed over many years and we are therefore pleased to be able to partner in this growth and expand our own presence at this world-class healthcare facility as Nawaloka itself continues to grow in order to better serve the Sri Lankan people. HNB will continue to offer world-class banking services that offer a new paradigm in customer convenience."