---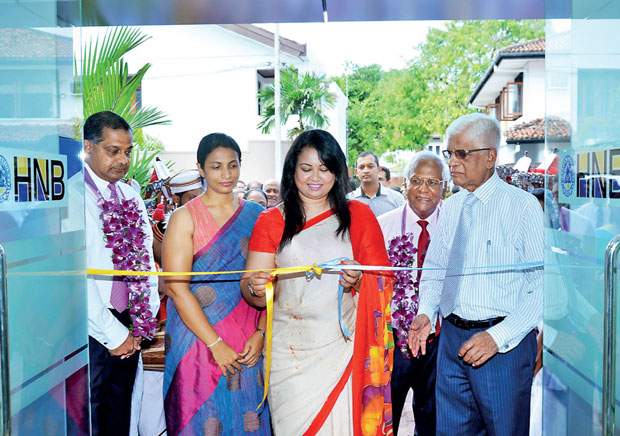 Picture shows Chiranthi Cooray, Chief Human Resource Officer/ Deputy General Manager - Human Resources - HNB, opening the new customer centre. Duleeksha Soosaipillai, Director, HNB, Rienzie Wijetilleke former Chairman, HNB, Mrs. Ken Balendra and Samuddika Mendis, Manager HNB Cinnamon Gardens customer centre are also in the picture.
HNB, recently acknowledged as the 'Best Retail Bank in Sri Lanka' for the ninth year by the 'Asian Banker', officially opened its newest customer centre – HNB Cinnamon Gardens Customer Centre at Barnes Place, Colombo 7.
The 5,300 square foot centre that is fully equipped to provide the ultimate digital experience for their high net-worth customers, was declared open by HNB Chief Human Resource Officer/ Deputy General Manager - Human Resources, Chiranthi Cooray together with HNB Director, Duleeksha Soosaipillai, Guests of Honour, and Mrs. Ken Balendra, HNB's former Chairman Rienzie Wijetilleke and many corporate celebrities who are the bank's Cinnamon Gardens customer
centre customers.
Over the past year, HNB has been deeply immersed in furthering its digital transformation agenda. This includes embarking on a comprehensive and holistic mission to changing the culture and mindset of staff, re-architecting the bank's technology infrastructure, and leveraging Big Data, biometrics and artificial intelligence to
re-imagine banking.
Cinnamon Gardens Customer Centre Manager, Samuddika Mendis greeted the many corporate customers and had them light the traditional oil lamp, which included- Kumari Wanniarachchi, Chairperson of Wanniarachchi group of Companies and Winsetha Hospital and Anselm Perera, Managing Director of Euroscan Exports
Pvt Ltd.
Commenting on the significance of the new customer centre opening, Chiranthi Cooray said: "HNB underscores its ongoing commitment to shaping the future of banking and embracing the future of work. Cinnamon Gardens customer centre is a purpose built facility for our customers to help develop iconic customer journeys and work in close collaboration with our customer centre staff to further
their businesses".
HNB Cinnamon Gardens Customer Centre offers full digital banking services plus personalized customer meeting pods and rooms in line with private banking requirements and to catalyze greater cross
functional collaboration.