---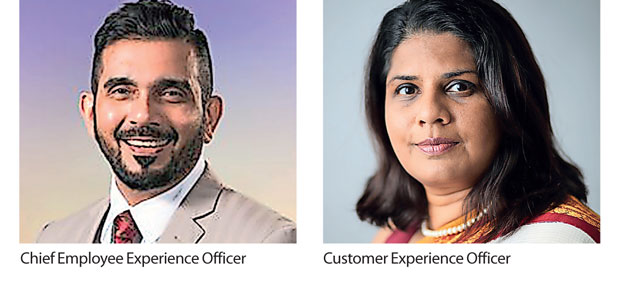 In a leap forward to augment work-life balance and enhance customer services through a happy workforce, Hatton National Bank (HNB) appointed senior banker Kalum Wijesooriya as its new Chief Employee Experience Officer and Vindhya Wijegunawardane as Customer Experience Officer.
The new appointments will ensure differentiation through excellence which the bank considers a crucial and most important element in its value proposition.
Wijesooriya will spearhead the bank's initiatives to create a responsive reach out channel to its over 4000 employees from across the country and inspire them into unleashing their fullest potential at the workplace.
Wijegunawardane, as the bank's Customer Experience Officer, will provide strategic direction and leadership to the bank's customer service teams to leverage customer insights and adopt an integrated suite of transformational initiatives designed to enhance the customer experience. She will also ensure consistency in service across all of the bank's touch points and ensure that the back office processes are attuned to providing an unparalleled service experience to customers.
The brand-new titles and appointments are a key part of HNB's evolution to a future-ready financial services powerhouse. Wijesooriya, LLB, counts 25 years of service at HNB and continues to function as AGM Deposit Mobilization and Remittances in addition to his new role. Complementing an illustrious tenure spanning marketing, remittances and deposit mobilization, Wijesooriya has also gained prominence as a famous TV personality and programme anchor. In his new role, Wijesooriya will work closely with HNB's iconic Hatna family to augment employee experience at the bank. Vindhya Wijegunawardane is a seasoned professional with over 20 years track record of excellence in the service industry and hails from the telecom/BPO industry. She holds an MBA from Cardiff Metropolitan University, UK and comes with diverse experience and rich insights. With her positive attitude, Wijegunawardane envisions to take HNB's customer service experience, to new heights, whilst setting new benchmarks in service excellence.