---
HNB recently announced the appointment of Majella Rodrigo to head the bank's Corporate Banking Project Finance team.
Majella was previously attached to National Bank of Oman, working in the role of Senior Relationship Manager, Project Finance and Loan Syndication.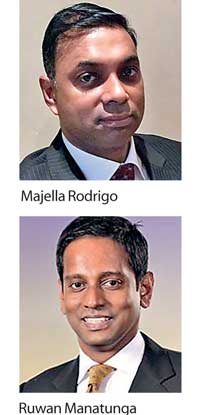 Commenting on the appointment, Ruwan Manatunga, DGM Corporate Banking stated that Rodrigo would bring with him a wealth of experience adding that he had no doubt that Rodrigo would be able to contribute immensely to the further strengthening of HNB's Project Financing business to be the preferred choice in the market.
He further articulated that HNB has always been in the forefront in investing in its product depth and service proposition and was of the view that Sri Lanka is poised to further develop infrastructure and project investments, and HNB will continue to lead the market in providing innovative solutions to its valued corporate clientele.
HNB's Project Financing business is a total service offering ranging from origination and arrangement, to underwriting and syndication of buy-outs and corporate acquisitions. The Project Financing team has also played a lead role in providing financing solutions for infrastructure projects covering key development projects which includes manufacturing, wind power, solar power, hydro power, water purification, healthcare, education, tourism, construction, highways and bridges etc. The team's deep understanding of specialized market knowledge also enables it to support clients, across all sectors.
Majella Rodrigo stressed that HNB leads the market in delivering Project Financing solutions to its corporate customers to meet their strategic business expansion goals. This best in class Project Financing team has an unparalleled track record of structuring financing solutions for both domestic and cross border deals to suit the specific requirements of the Bank's corporate customers. The ongoing Project Financing lending portfolio is well over Rs. 100 billion, a testament of the Bank's commitment to support the country's infrastructure and project finance transactions.
He also mentioned that HNB Project Financing business over the last couple of years concluded a number of successful cross border transactions in countries such as Cambodia, Bangladesh, Uganda and the Maldives. The overseas deployment of lending assets by the Project Financing team now amounts to approx US$ 200 million.