---
HNB Assurance PLC, the insurance subsidiary of the Hatton National Banking group, reported earnings of Rs.74 million or Rs.1.48 a share for its March quarter (1Q17), an increase of 121 percent from a year ago as the gross written premiums (GWPs) from both life and non-life businesses increased, the interim results showed.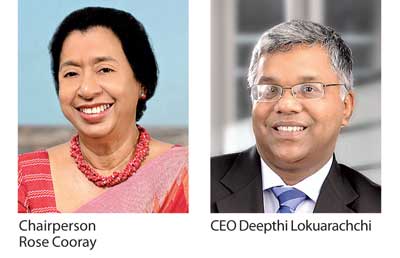 The life premiums rose by 18 percent year-on-year (YoY) to Rs.983 million while the general insurance premiums rose by 19 percent YoY to Rs.925 million with the total GWPs increasing to Rs.1.9 billion during the quarter under review.
During the same period, the life insurance fund grew by 7.0 percent while the general insurance fund grew by 5.0 percent to Rs.9 billion and Rs.2.0 billion, respectively, the insurance firm said in a statement. The company's general insurance business is carried out by its fully-owned subsidiary after the regulator asked the composite insurers to segregate their life and non-life businesses under two separate legal entities by 2015. Meanwhile, the interest and dividend income received on the insurer's financial investment portfolio also rose by a strong 48 percent YoY to Rs.360.3 million.
During the quarter, the company paid claims and benefits worth of Rs.520 million, up 20 percent from the same period last year.
As of March 31, 2017, Hatton National Bank PLC had a 59.99 percent stake in HNB Assurance.