---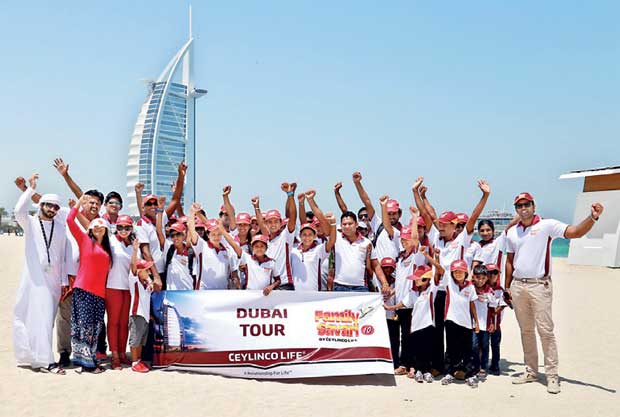 A spellbinding four-day visit to Dubai was the sensational reward won recently by a group of Ceylinco Life policyholder families in the second phase of the life insurance leader's 'Family Savari' mega promotion.
The group of 40 comprising of 10 policyholders and their spouses and children was treated to an all-expenses-paid holiday centred on the city's most iconic attractions, including a desert safari, dhow cruise and visits to the Palm Jumeirah, Burj al Arab, Zabeel Palace, Gold Souk, Al Fahidi Fort and Dubai Museum, and a full day of shopping.
The group was provided accommodation at one of Dubai's leading four-star hotels and was accompanied by actor Roshan Ranawana and his wife Kushlani, who are Brand Ambassadors for the Family Savari programme.
This was the second batch of winners in the 10th edition of Ceylinco Life's Family Savari programme. In early May, nearly 2,000 members of policyholder families spent a day at the Leisure World theme park. Another 200 people from 50 policyholder families have won a holiday in Singapore, while the grand prize of a holiday in England has been won by five policyholder families.
Intended to increase penetration of life insurance and to reward policyholders for keeping their policies active, the Ceylinco Life Family Savari is the largest customer promotion in Sri Lanka's insurance industry.
A total of 2,260 people win overseas holidays or the local excursion from Ceylinco Life every year through the Family Savari programme. The total number of people benefitted by the promotion to date is 20,000.
The Ceylinco Life Family Savari promotion has as its Brand Ambassadors the Sri Lankan actors Sriyantha Mendis, Sanjeewani Weerasinghe and RoshanRanawana and Kushlani Ranawana who participate in the Savari outings and overseas tours.
The market leader in Sri Lanka's life insurance sector since 2004, Ceylinco Life has close to a million lives covered by active policies. The company is acknowledged as the benchmark for innovation in the local insurance industry for its work in product research and development, customer service, professional development and corporate social responsibility.