---
The Bank of Ceylon, the Sri Lankan banking giant has scored its second trillion by its deposit base reaching over Rs. 1 trillion.

With this achievement Bank has created history by being the first and the only bank in Sri Lanka to pass this milestone.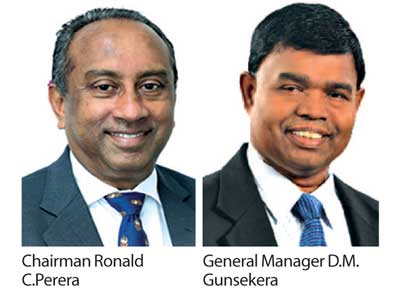 The Bank's historic first trillion was achieved in year 2012 by earning a Rs. 1 trillion asset base which was the first time any corporate entity had achieved a Rs. 1 trillion balance sheet in Sri Lanka.

Along with this achievement the bank made another headline by earning the highest ever profit made by a single Sri Lankan business entity which is Rs. 25.3 billion PBT, bettering its own record set by its 2014 profit before tax of Rs.20.3 billion.

"Our strategic objectives have always been in line with the Government's economic development initiatives. The country is in a progressive path for a refined and long term economic and social development. In this ambitious journey the Bank is connected with each one of the economic and social areas directly or indirectly and we are bound to ensure that we maintain our performance at the highest level to fulfill our duty towards the country" stated the Bank's Chairman Ronald C.Perera.

"The Bank of Ceylon did not achieve this target single handedly. Therefore we are thankful for the support and trust it received from its main stakeholder the Government of Sri Lanka and its loyal customers ranging from individuals to corporate entities from all walks of life. Most importantly the dedication and the hard work that was rendered by the staff of the Bank was yet another key pillar in achieving this target" stated the General Manager D.M. Gunsekera. "Whilst thanking all our stakeholders who have joined hands with us in this journey, I wish to announce that we are now planning towards our third trillion in near future." he further added.

The Bank has been recognized by a number of reputed international and local institutions. The most recent was winning the Over-all Gold award and becoming the winner at the National Business Excellence Awards 2015 organized by the National Chamber of Commerce, in the categories of Banking sector, Excellence in CSR, Excellence in Local Market reach and Extra-large category and the runner-up of Excellence in Capacity building. BOC was also named as the Strongest Bank in the country by "The Asian Banker", making it stand with other banking giants in Asia Pacific region. The Bank has been ranked among the "Top 1000 Banks" in the world with the country rank No.1 by the prestigious U.K based magazine "The Banker". These fortify not only the image of the bank but also that of the country's economic profile by uplifting the Sri Lankan Banking industry in the international arena.