---
Asian Alliance Insurance delivered a combined gross written premium (GWP) of Rs.6.2 billion in 2015, which is an increase of 29 percent compared with the previous year, outpacing the industry by far. Life Insurance GWP was a spectacular Rs.4.1 billion, increasing by 35 percent, whilst general insurance turned in a strong performance with GWP that was Rs.2.0 billion, increasing by 15 percent.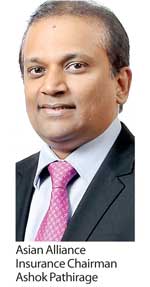 Asian Alliance Life recorded first year premiums of Rs.1.3 billion, growing by 42 percent with an absolute growth of Rs.390 million that is a top three industry finish. Typically, the first year premium growth is a leading indicator of an insurance company's near term potential and augurs well as the company moves forward with great momentum. Whilst accelerating in life, general insurance business Asian Alliance Motor hit a top line of Rs.1.2 billion, growing 40 percent, which is amongst the highest for the peer group and more than doubling industry growth of 19 percent.

Asian Alliance Insurance at group level, achieved profit after tax (PAT) growth of 22.4 percent year-on-year (YoY), boosting PAT to Rs.924 million. Total net revenue was Rs.6.2 billion while net insurance benefits and claims increased marginally to Rs.1.6 billion for 2015. Total assets as at December 31, 2015 stood at Rs.11.4 billion – an improvement of 11.3 percent from the previous year.

"We are extremely happy to note that total GWP has grown at a compounded rate of 30 percent since the entry of Softlogic in September 2011, from a combined GWP of Rs.1.6 billion to 6.2 billion in 2015. A key challenge for management is to manage stakeholder engagement and business goals to achieve integrated growth for the organisation and we feel that we have pressed hard on all the buttons that deliver relevance," Asian Alliance Insurance PLC Managing Director Iftikar Ahamed said.

"Furthermore, by continuing to focus strongly on further developing our human resources as well as on digital innovation, the company has laid the platform for sustainable, long-term growth."

In life business, the protection platform and products continue to be the mainstay of the portfolio, where the company has once again done exceptionally well, with a brilliant sales team performance, executing what is probably the most valuable insurance proposition that has now been branded as 'Asian Alliance LifeMax'.

The unique business model is orientated towards Sri Lanka's fast-growing mass-affluent sector recorded average premium value of Rs.86,000- that is far ahead of the industry. Further, persistency of life policies is the best in the industry with first and second year persistency at 82 percent and 63 percent, respectively. Asian Alliance continues to develop its life sales advisors so that they are at the top of their game and being in this premium client segment allows the company to invest and service customers with great intensity.

In the area of general insurance, the entire business was re-engineered with a retail focus with emphasis on motor and probably delivered one of the greatest turnarounds in the industry by growing the business and building market share, whilst increasing margins at the same time. The company placed emphasis on retail products, launching the revolutionary 'Asian Alliance Click2Claim' for motor, whilst strategically focusing on health, where synergies with the group healthcare sector - Asiri Hospitals - will be of tremendous importance for the future.

In the 2015 financial year, Asian Alliance Insurance expanded its branch network spread across the island to 81 branches, adding four branches to its life network and eight branches to its general network whilst winning Asia's most coveted 'Innovation of the Year' award at the 19th Asian Insurance Awards held at Marina Bay Sands in Singapore. The award was on account of innovation in eliminating the traditional accident claims process in motor insurance and for bringing revolutionary change to Sri Lanka's motor insurance industry. The company also won the top Insurance Gold award at the 12th Annual Business Excellence Awards conducted by the National Chamber of Commerce.
Asian Alliance Insurance PLC is held by Softlogic Capital PLC and is part of the Softlogic group.