---

Amana Takaful Insurance, being the pioneer of the 'Takaful Insurance way' has played a vital and revolutionary role in the Sri Lankan Insurance Industry during its 18 year presence.

Being in the forefront of innovation, Amana Takaful introduced two new insurance schemes namely, 'TukTuk Full' and 'Smart Rider Cover' eight months ago especially targeted to three wheeler and motor cycle insurance holders. Loaded with added benefits, this is another first by Amana Takaful, writing a new chapter in the Sri Lankan insurance industry.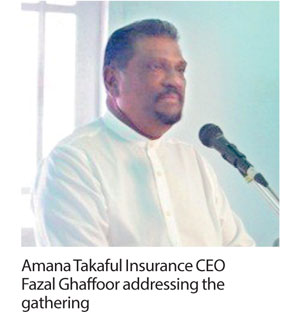 This insurance scheme enables the policy holder to receive Rs.300,000 at the time of accidental death. Any accident repairs that result in an income loss entitles the insurance holder to a claim of up to Rs.1000 per day to a maximum of four days a year and in the case of any accident resulting in hospitalization, that leads to an income loss, this scheme entitles them to receive Rs.750 per day for a maximum of 10 days. Furthermore, in the case of a death of a family member of the primary insurance policy holder, the insurance scheme facilitates them to receive an amount of Rs.25,000, whilst coverage of Rs.100,000 is provided for 38 critical illnesses. Moreover, Rs.300,000 will be released at the time of permanent disability of policy holder.

Amana Takaful Life Galle Branch fulfilled these promises recently, where three of the policy holders qualifying under the scheme were granted these special benefits. It is of more significance that these benefits weren't granted merely for unfortunate circumstances arising of vehicle accidents but for the damage and distress caused by natural disasters. Sriyani Pieris (SRC Insurance), Priyadashani Hettige (SRC Insurance) and M.H.N. Kariyawasam were the beneficiaries at this event.

Speaking at the event, Amana Takaful Insurance Chief Executive Officer Fazal Ghaffoor stated that Amana is always prepared and willing to give its customers the best and the most innovative insurance solutions and it has been the driving force behind their success for the last 18 years.
Addressing the gathering, Singer Finance Galle Branch Manager and few of the attendees stated that the introduction of such beneficial and valuable insurance schemes are indeed exemplary and encouraged the other insurance providers in the field to follow suit. He also expressed his gratitude to Amana Takaful Insurance for fulfilling the promises made to the community in a timely manner.

Amongst the August gathering were Amana Takaful Insurance CEO Fazal Ghaffoor, ATL Southern Zone Manager Janaka Wijekumara, Marketing Head Shammi Nishshanka, ATL Galle Manager Suluki Ibrahim and many staff members of the ATL Southern Province branches, representatives from many Finance companies in Galle, customers and many media representatives.