---
Amana Bank PLC put on a better show during its March quarter ahead of its Rs.4.75 billion rights issue announced earlier this month. The performance reflected better management of margins while the fee and commission incomes also rose cushioning the bottom line.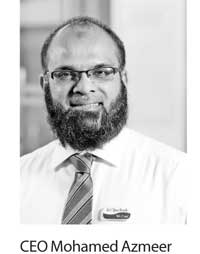 According to the interim accounts released to the Colombo Stock Exchange last week, Sri Lanka's first non-interest-based licensed commercial bank reported a profit after tax of Rs.66.6 million or 5 cents a share for its January-March quarter, a 74 percent increase from Rs.38.3 million profit made a year earlier.
The net finance income or the net interest income in general banking terms rose by 38 percent year-on-year (YoY) to Rs.562.5 million as the bank managed to maintain its net interest margin at 3.7 percent, slightly up from 3.6 percent in December 2016.
The net fee and commission income rose by 22 percent YoY to Rs.57.9 million for the quarter. During the three months, the bank gave Rs.1.6 billion in loans, which is a 4.1 percent increase from December 2016. The bank has a total financing and receivables portfolio of Rs.40.3 billion. The bank's deposit base grew by Rs.2.2 billion or 4.7 percent during the three months to Rs.49.1 billion.
Earlier this month, Amana Bank announced a rights issue of one new share for every one held to raise Rs.4.75 billion to meet the Central Bank's interim minimum core capital target of Rs.7.5 billion by June 30, 2016.
Earlier the bank said it was holding talks with a foreign fund to meet this requirement in return for a substantial state in the bank.
By March 31, 2017, Bank Islam Malaysia Berhad and AB Bank Limited held a 14.44 percent stake each in Amana Bank while Akbar Brothers Private Limited, Islamic Development Bank and Expolanka Holdings PLC held 9.98 percent, 9.62 percent and 7.22 percent, respectively, being the third, fourth and fifth largest shareholders.
Amana Bank operates with 28 branches and 714 employees with a total asset base of Rs.57 billion, up 5 percent from December 2016.