---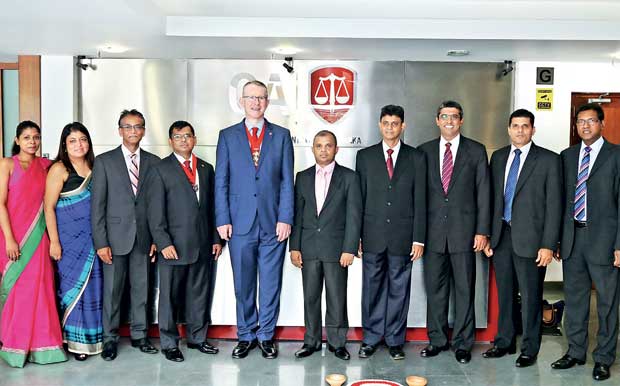 From Left: Employers BDM and ACCA Sri Lanka Member Ruchera Jayawardena, ACCA Sri Lanka Head Nilusha Ranasinghe, ACCA Sri Lanka Network Panel Vice Chairman Suren Rajakarier, ACCA Sri Lanka Member Network Panel Chairman Adrian Perera, ACCA Global President Brian McEnery, CA Sri Lanka Council Member Sanjaya Bandara, CA Sri Lanka Council Member Kapila Atukorala, CA Sri Lanka Council Member Dulitha Perera, CA Sri Lanka Council Member Tishan Subasinghe and CA Sri Lanka CEO Aruna Alwis
Global President of the Association of Chartered Certified Accountants (ACCA) Brian McEnery paid a courtesy call at the Institute of Chartered Accountants of Sri Lanka recently, where matters in relation to the development of the accounting profession was discussed at length.

He was received by CA Sri Lanka's Council Members Sanjaya Bandara, Kapila Atukorala, Dulitha Perera, Tishan Subasinghe and Chief Executive Officer Aruna Alwis.

McEnery was accompanied by ACCA Sri Lanka Head Nilusha Ranasinghe and several other officials from ACCA. Bearing the capacity as the national accounting body in the country, CA Sri Lanka works closely with its counterparts including ACCA towards the further enhancement and development of the accounting profession.