---

nding a long wait, Union Bank of Colombo PLC (UBC) yesterday officially announced its mega investment deal with Culture Financial Holdings Ltd, an affiliate of TPG, a USA-based leading private investment with an asset base of US $ 59 billion. The transaction is believed to be the biggest buyout deal so far by a foreign party.

Under the agreement, Culture Financial Holdings will invest up to approximately US$117 million in UBC through a combination of primary and secondary shares, representing up to 70 percent of the issued share capital, and warrants that if exercised in full within their specified time period, would increase TPG's interest in UBC to 75 percent.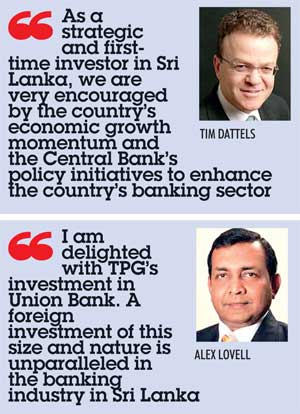 The board of directors of UBC has resolved to issue 742.156, 249 ordinary voting shares of the bank to Culture Financial Holdings Ltd, a company incorporated in Cayman Islands, by way of a private placement at Rs.15.30 per share.

Simultaneously, Culture Financial Holdings will also be issued with 218, 281, 250 warrants at a consideration of 30 cents. Warrants conferring the company with the rights to subscribe to one new ordinary share warrant within a period of six years, from the issue of such warrants at exercising price of Rs.16 per share.

The Central Bank of Sri Lanka (CBSL) approved TPG's investment in UBC via a letter on August 6, 2014. However, TPG will have to reduce its interest in UBC to 15 percent within a time period of 15 years.

Meanwhile, the market regulator, the Securities and Exchange Commission has also granted waivers to UBC from certain listing rules of the Colombo Stock Exchange to carry out the transaction.

The investment will be made on a staggered basis with Culture Financial Holdings initially acquiring 68 percent stake in the bank by subscribing for new ordinary shares and subsequently increasing the stake up to 70 percent through a mandatory general offer and finally up to 75 percent depending on the exercising of the warrants.

Following the private placement of shares, Culture Financial Holdings will announce a mandatory offer to other shareholders to acquire the remaining shares of UBC at Rs.15.30 per share. The UBC share is currently trading at Rs.23-24 range and the share closed at Rs.23.30 yesterday, down 20 cents. The total assets of UBC as at March 31, 2014 stood at Rs.39 billion while the net asset per share was Rs.14.14.

The trading of UBC shares was halted pending the announcement. The CSE later said the trading-halt will be lifted 9.00 a.m. today.

The public holding of UBC as at yesterday was 63.7 percent. The single largest shareholder of the bank as at March 31, 2014 was Vista Knowledge (Pvt) Ltd with 18.5 percent while Sampath Bank and Associated Electrical held 7.5 percent each as the second and third largest shareholders. Select Gain Ltd as the fourth largest shareholder held 6.7 percent while UBC Chairman Alex Lovell held 6.5 percent.

The issue of shares under the private placement, issue of the warrants and the general offer are subject to certain conditions, including, but not limited to, shareholder approval of the transaction and certain regulatory approvals.

Tim Dattels, Managing Partner and TPG's Asia co-head said, "We are pleased to partner with Union Bank. As a strategic and first-time investor in Sri Lanka, we are very encouraged by the country's economic growth momentum and the Central Bank's policy initiatives to enhance the country's banking sector. We see great growth potential in Union Bank to emerge as one of the top five local commercial banks in the country."

The transaction will strengthen the Tier 1 capital of UBC and enable UBC to meet the minimum capital requirement of Rs.10 billion set by the Central Bank of Sri Lanka, which will come in to effect from January 1, 2016.

UBC Chairman Alex Lovell said, "I am delighted with TPG's investment in Union Bank. A foreign investment of this size and nature is unparalleled in the banking industry in Sri Lanka.

TPG is one of the leading and most experienced private investment firms with an unrivalled investment track record in the financial services sector in Asia. Union Bank will be able to tap TPG's operational expertise and global resources to not only strengthen Union Bank's balance sheet but also introduce new products and expand our network in order to offer better services to our customers."

TPG has received financial advice from CIMB Investment Bank and legal advice from Cleary Gottlieb Steen & Hamilton LLP as its international counsel and F. J. & G. de Saram as its Sri Lanka law counsel.

Nithya Partners provided legal advice to UBC.

---
---
Add comment

Comments will be edited (grammar, spelling and slang) and authorized at the discretion of Daily Mirror online. The website also has the right not to publish selected comments.

---