---
Following are the excerpts of an exclusive interview Daily Mirror had with NDB Vice President and Head of Corporate Banking Buwanekabahu Perera.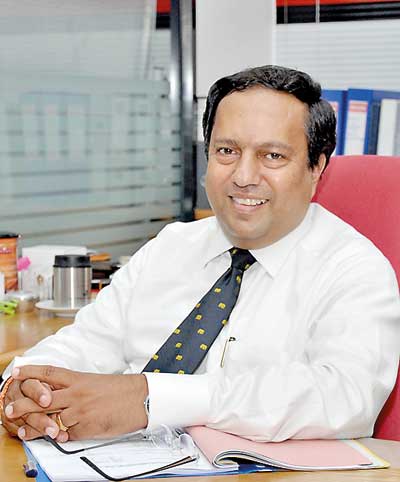 Q: How does NDB's commercial banking operation add value to the corporates in Sri Lanka?
Over the years, NDB has been providing financial facilities as well as expert advisory services to the top notch corporates in Sri Lanka. By matching experience with a wealth of resources we offer a blend of corporate financing and commercial banking expertise that is unique to the corporate financing sector.

We endeavour to meet the business and financial needs of our commercial banking clients effectively and efficiently with a range of facilities including working capital management, pre and post-shipment financing, short-term loans, overdraft facilities, guarantees, treasury services, distributor financing as well as receivable financing. That way, we would not only just provide financing but total financial solutions for their specific needs.





Q:

How does NDB's commercial banking proposition differentiate itself in the marketplace?
As one of the largest single financiers of medium and long-term businesses in Sri Lanka, NDB has amassed much knowledge and experience in corporate finance, which is constantly being passed on to our clients. Such knowledge and expertise have enabled us to develop customised solutions to meet the specific needs of a particular industry such as tea, garments, travel sector, etc.

Further, NDB being a financial conglomerate is able to cater to the diverse needs of the corporate clients through the combined synergies of the group. The commercial banking unit of the bank works very closely with the project financing to tailor long-term financial solutions for the large projects of our corporates and bundle it with their short-term working capital needs.

Also, close collaboration with NDB group constituents enables us to provide a gamut of value additions such as investment banking, mergers and acquisitions advice, wealth management as well as stock brokering advice to our corporate banking clients. This sets NDB apart as a truly universal financial services provider for the corporates in the country.





Q:

How do you support the exporters of Sri Lanka?
Given the importance of the export sector to the country's economy, we place a lot of emphasis on developing the emerging exporters of Sri Lanka. In this direction, we have pioneered many initiatives to apprehend and fulfil the financial needs of exporters. NDB extends expert financial advice coupled with diverse trade finance tools that include pre-export loan facilities and export bill discounting facilities to help meet the funding needs at the post-shipment stage.

Advising of letters of credit (LCs) and processing collection bills are amongst the many services extended by NDB to the local exporters. The bank also grants foreign currency loans to exporters at competitive rates and funds the working capital cycles of the exporters through customised short and medium-term loans.

We have devised customised exporter financing tools especially for key industry segments such as tea, apparel sand rubber-based products, etc. We have been very flexible in terms of export finance facilities to support the growth of emerging exporters from segments such as spices, cinnamon, ornamental fish, etc. We also liaise closely with the Treasury Department of the bank when providing advice on foreign exchange exposures to minimise their risks.

To further establish our commitment towards the development of exporters we have come forward as a sponsor for the Annual Exports Awards hosted by the National Chamber of Exporters which has been one of the long-term commitments towards the industry by NDB.





Q:

What role does relationship management play in delivering services to corporates?
The corporate clients are served through a team of expert relationship managers who are multi-skilled in all industry segments, both imports and exports. We invest in continuous training and skills development of our relationship managers to keep them up to date on the market and industry changes as well as the technology advancements.

The relationship managers are able to identify the best suited financial solution for our clients and are able to structure a facility package to meet the client's requirements effectively. They are empowered to make critical decisions and the credit approving process has been expedited by our internal delegated lending approval structure, thereby creating faster turnaround.

The relationship managers maintain close client relations and carry out regular meetings with them, while providing step- by-step financial guidance through their wide scope of experience.

This ongoing relationship is further strengthened by the e-banking platform which facilitates more convenience in conducting routine commercial banking transactions and trade and cash flow management to our entire client portfolio.



Q: How do you think the private sector can contribute to the current economic developments in the country? How does NDB intend to support the growth of the private sector?
Sri Lanka is placed amidst a wave of opportunity and is poised for exponential growth and economic development. The private sector has been a long-standing partner of Sri Lanka's development even through tough times such as a three-decade long conflict, financial crisis and is now seen to be engaging in the process of moving Sri Lanka into a middle income country.

To help the country achieve the ambitious economic development targets set for the oncoming years, the private sector needs to focus on building strong organisations with transparent and solid governance structures that benefit all stakeholders. This should certainly need to be coupled with increased investments in infrastructure and human capital. This is indeed an opportune time for the private entrepreneurs and corporates to emerge and prosper while contributing to the growth of the economy.

As a bank that has been committed towards national development for over three decades, NDB is well poised to take on the growth opportunities and support such emerging private initiatives of the aspiring entrepreneurs. The highly competitive market that reflects the sophistication of the needs of our clients has demanded innovative, customised financial solutions. In this regard, the synergy between NDB and the group constituents would continue to add value and strengthen NDB's service proposition to surpass the norm of conventional banking services, creating new dimensions in corporate banking in Sri Lanka.
---
---
Add comment

Comments will be edited (grammar, spelling and slang) and authorized at the discretion of Daily Mirror online. The website also has the right not to publish selected comments.

---