---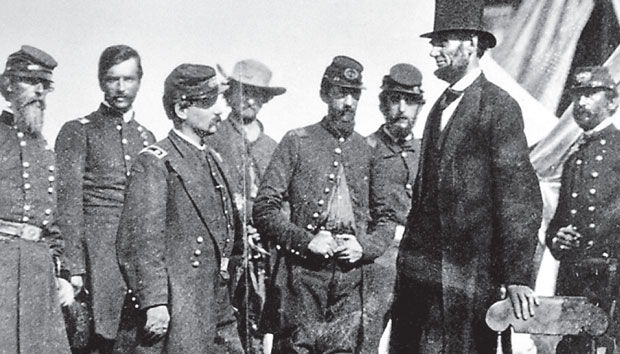 Abraham Lincoln, General McClellan and his staff at Antietam, Maryland, 1862 by Alexander Gardner, Lincoln National Life Foundation




By Asanga Abeyagoonasekera
"This country, with its institutions, belongs to the people who inhabit it. Whenever they shall grow weary of the existing government, they can exercise their constitutional right of amending it, or exercise their revolutionary right to overthrow it." Abraham Lincoln.

Through historical narratives and human experiences mankind witnesses the shift from the power of one individual to a wider representational body.

As colonial empires imposed draconian rules, it became impossible to govern the natives as the public believed in strengthening the representative system for their economic freedom and further political rights. Sri Lanka experienced historical political achievement with the passing of the 19th Amendment with a parliamentary majority. Such political progress will cut down the centralised power of the executive and moved towards the Prime minister and Parliament.
At the memorial oration at the four-time Sri Lankan Prime Minister Dudley Senanayake, Dr. Karunasena Kodithuwakku noted that Senanayake, seeing it as early as 1972, was aware of the consequences of transferring a significant power to one person, thus objecting to the executive presidency.

"Tackling political corruption among all politicians should be done without any interference"


Grab opportunity

Former presidents promised but failed to deliver. Incumbent Sri Lankan President Maithripala Sirisena factors in Sri Lankan political history as a leader who strengthened local democratic institutions at the expense of his own power, a first in post-independence Sri Lankan politics.

It is our opportunity to strengthen independent institutions and depoliticise them. The Bribery Commission, a place which should be equal to all citizens without political interference will have a massive local and global impact on our nation to improve the Corruption Perception Index.

Tackling political corruption among all politicians should be done without any interference as the urban councilors, provincial councilors, members of parliament or former heads of state are all representatives who represent us; there shouldn't be a difference in the process. Equality as a clause engraved in our constitution leaves the author questioning as to why the commissioner was summoned by the speaker. We should ask as to who must be summoned in an event of the speaker having an allegation.


Reps with highest standards

For the 19th amendment to function smoothly, Sri Lanka requires representatives with the highest standards within a functional meritocracy in the State system. A majority of elected members lack basic education, a criteria that has to be looked at in the modern day world, unlike the past.

The next parliamentary elections should bring in more statesman-like people who could contribute for the economic prosperity and to create a decent political culture. This could be done by the powerful ballot only and if this change is done we are looking at a brighter Sri Lanka; else it will be a repeat of the past.
A significant strength of our nation was taken away by the three-decade war. Recently, over a session at the Harvard Kennedy School, this author emphasised the grievous political loss to the country in the assassination of Dr. Neelan Tiruchelvan, Lalith Athulathmudali both Harvard scholars, Lakshman Kadirgamar, President R. Premadasa and many other leaders. These carefully planned assassinations weakened our State. It's time we strengthen our governance structure by bringing the right people for the top jobs.

We will face many more challenges in the coming months and years specially after ending insurgency and terrorism, especially to deal with the many clusters of the LTTE core group still in operation. To bring them to the reconciliation process to give up their idea of the Tamil Eelam will be challenging. The Tamil National Alliance should support the government's reconciliation process and ensure other groups could engage with us.


Research input

A fault in the local decision-making at the policy level is its lack of consideration of research input from think tanks and research material, leading ad hoc decisions.

Research input should be a priority and we should develop our research capability as a nation. National think tanks and others should welcome public opinion and ideas before policy decisions are implemented in the parliament.

It is important to consider the foreign migration of our talented youth to Australia, the US and many developed nations. A talented youth force is a necessity for nation-building. They need to be engaged in this important moment in time. It is important to look at mechanisms to attract expat Sri Lankan professionals back to our country, reverse the brain drain, like in India.

The 150th death anniversary of one of the greatest leaders through time, President Abraham Lincoln, was commemorated over the last month. President Lincoln ended a bloody civil war, which claimed over 600,000 lives, and ended slavery, while uniting a nation to ensure freedom for all. Resultantly, a greater nation emerged.

We could draws lessons from Lincoln's political will for our present day constitutional reform. As John Kerry said in his brilliant remarks during his recent visit to Sri Lanka, "…what my country discovered to our own anguish during our civil war there were no true victors only victims. You saw, I trust, that it is obvious the value of ending wars in a way that builds foundation for the peace to follow."

(This article was first published by the Institute of Peace and Conflict Studies, New Delhi at http://www.ipcs.org/article/south-asia/finding-a-path-to-true-democracy-in-sri-lanka-4871.html)