---


The Moscow of yesteryear evokes images of bread queues and Soviet tanks, however modern day Moscow couldn't be more different. Russia has shaken off its Communist shackles and Moscow, capital of the largest country in the world, is now its richest city. The emergence of a market economy in Moscow has produced an explosion of Western-style retailing, services, architecture, and lifestyles. Queues in Moscow today are for nightclub launch parties while the tank of choice is more likely to be a Porsche Cayenne.

With wealth comes expense. Moscow boasts more billionaires than New York – 79 at the last count – and as a result the city has a reputation for being the most expensive city in the world. But there is much more to Moscow than champagne and caviar, and visitors will be awed by the incredible architecture, wonderful museums and culture of performing arts, all wrapped up in Europe's largest city.
Flights to Moscow, Russia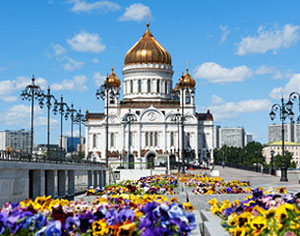 Attractions

Central Moscow is best explored on foot. The distances between sights can be huge so make use of Moscow's famous Metro system; is comprehensive, inexpensive and boasts some great architecture.

Most visitors make their way straight to Russia's first UNESCO World Heritage Site, Red Square. At the heart of the city, it is surrounded by the multicoloured St. Basil's Cathedral, the State History Museum, Lenin's Mausoleum and one of the Kremlin's red brick walls. Don't let the name fool you: the Red Square's uneven cobbles are in fact black.

From here, head to the Kremlin, the seat of the Russian government. Another early recipient of UNESCO World Heritage Site status, this ancient fortress is open to the public although several sections, including the Grand Kremlin Palace, are off-limits. Allow at least a day to visit the cathedrals, churches and palaces of Cathedral Square, the historical treasures of the Armoury Museum and the crown jewels of the Diamond Fund.

A short distance west of the Kremlin, on the banks of the Moskva River, is the gold 'onion' domed Cathedral of Christ the Saviour. First completed in 1860, it was reduced to rubble in 1931 on the orders of Stalin who intended to replace it with a monumental Palace of the Soviets. This development never made it off the drawing board and in 1990 the Russian Orthodox Church received permission from the Soviet Government to build a replica of the original cathedral.

Dining and Nightlife

Dining out in Moscow is generally quite expensive, but a huge range of restaurants – with a matching range of prices – has developed in recent years. Travellers can choose everything from street food and fast food to business lunches and fine dining experiences. The areas around Arbat Street, Nikolskaya Ulitsa, and the upper end of Tverskaya Street usually have plenty of good options.

If you're keen to experience Russian cuisine, try traditional pelmeni (meat ravioli) and buttery rye bliny (crêpe-like pancakes). Ethnic cuisine is also popular, with favourites including Azerbaijani, Armenian and Georgian. However, Muscovites are currently indulging in an obsession with sushi, and as a result Japanese restaurants are everywhere. Other Far Eastern food is also gaining popularity, with the best vendors found in the Chinese and Vietnamese Cherkizovskaya and Izmalovo Markets.

Moscow's nightlife is excellent, although many clubs enforce a strict but seemingly arbitrary 'face policy' with bouncers determining whether or not you should be allowed in. Popular clubbing destinations include the area around Tverskaya (also known as Gorky) Street and Manege Square in Tverskoy. English language listings can be found in local newspapers and magazines.

Beyond Moscow

As Russia's transport hub, Moscow is a convenient starting point for exploring the rest of the country. Take a train trip to St. Petersburg – numerous trains depart Moscow each evening for the seven hour overnight journey, or you can take a four hour high-speed Sapsan train and enjoy the stunning vistas as you travel. Russia's second city, St. Petersburg was known as the Venice of the North during its heyday. Today its entire historic centre is listed as a UNESCO World Heritage Site, with its prime attraction – the phenomenal Hermitage Museum and Winter Palace – housing more than three million artefacts including priceless works by Rembrandt, Da Vinci and Michelangelo.

Emirates operates twice-daily flights to Moscow from our Dubai hub using a state-of-the-art fleet including the Boeing 777-300ER. Discover Emirates comfortable inflight facilities on Moscow flights, which include luxurious private suites in First Class, deeply reclining comfort in Business Class and plenty of room to relax in Economy Class. All classes feature ice, Emirates onboard information, communication and entertainment system, that offers hundreds of channels including the latest movies and TV shows from around the world.
---
---
Add comment

Comments will be edited (grammar, spelling and slang) and authorized at the discretion of Daily Mirror online. The website also has the right not to publish selected comments.

---