---



The UK's second city is often referred to as the 'city of a thousand trades', due to the integral part it played during the Industrial Revolution of the 19th century. In fact, as early as the 1500s the city was known for its foundries and tanneries. By the 18th century Birmingham was exporting ironwork to Europe and converting corn mills to metalworking mills. Gun-, toy- and button makers were dispatching their wares around the world.

In the 19th century Birmingham attracted immigrants from Ireland, Poland, Russia, Germany and Italy, all keen for a slice of industrial success. In the 1950s and 1960s a wave of post-war immigration brought families from the Caribbean and Asia, enriching the city's multicultural heritage.

By the turn of the millennium Birmingham had shaken off its gritty reputation and had become the bustling, vibrant city it remains to this day. Any road up (or 'whichever way you look at it'), the city has progressed from its manufacturing roots. Birmingham's coat of arms might display an arm-and-hammer, but its modern day outlook – despite being the heart of the UK's motor industry - is more international than industrial.
Flights to Birmingham, UK

Attractions

Birmingham is the UK's second city in terms of size, but not in terms of tourist attractions. The city is a major business destination and features a world-class exhibition and conference centre, the NEC. Nevertheless, there is still plenty to see and do in Brum.

Consider a visit to Villa Park, home of Aston Villa FC. With seven FA Cups, seven league titles, and one European Cup under their belt they're Birmingham's most successful football club. Alternatively, learn all about Birmingham's history at the Museum of the Jewellery Quarter. This former jewellery workshop was abandoned in full working condition, and was subsequently opened to the public. It's a great opportunity to see how gold and silversmiths worked, before purchasing the real thing in the still-commercially operating Jewellery Quarter.

If shopping is your thing, visit the Bull Ring. Once a notorious eyesore, the complex was demolished and a new shopping centre was built in its place, and it now draws people from around the region for the high street staples: clothes shops, chain stores and discount outlets.

Finally, budding Willy Wonkas will revel in the opportunity to visit Cadbury's World. Located in Bourneville and billed as the place "where chocolate comes to life", it's a fun experience loved by children and adults. Look out for the cheap 'seconds' on sale in the shop: misshapen yet mouth-watering.

Dining and Nightlife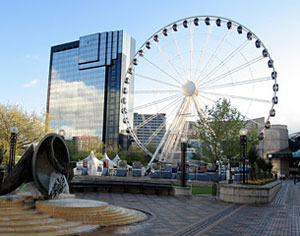 Birmingham is home to a host of international cuisines, but is synonymous with just one: Indian. Birmingham's multicultural society has bestowed the city with the title of Curry Capital, and is the 1977 birthplace of the Balti. This Brummie/Kashmiri favourite is celebrated in the so-called Balti Triangle, an area comprising around 50 Indian and Asian restaurants in Sparkbrook, 3km south of the city centre. The area may look a little run down but is perfectly safe due to the abundance of curry connoisseurs.

Diners looking to move on from the ubiquitous curry can sample some excellent Chinese dishes in the city's China Quarter, or a selection of cheap eats in the student district of Selly Oak. Upmarket restaurants of every persuasion – the city has more than 200 restaurants from Thai to Japanese, Italian to French – can be found throughout Birmingham.

Birmingham also hosts some of Britain's most popular clubs, events and gigs, many of which are boosted by the city's student population. Take your pick from indie venues in Dale End, super clubs in Hurst Street, or bars and clubs around Broad Street and Brindleyplace. For the latest information consult local listings magazines.

Beyond Newcastle

Less than an hour by train from Birmingham is the pretty and historic town of Stratford-upon-Avon. Famous for being the birthplace of English playwright and poet, William Shakespeare, the town is one of Britain's most popular tourist destinations.

Visit Shakespeare's house at Henley Street: no one has been able to prove 'The Bard' was actually born here, but it is definitely the house in which he was raised. The 16th century building has been lovingly restored and contains many authentic items from this era.

Emirates offers twice daily flights to Birmingham from Dubai using a state-of-the-art fleet including the Boeing 777-300R. Discover Emirates luxurious in-flight facilities on Birmingham, which include deeply reclining comfort in Business Class and a new generation of comfort in Economy Class.
---
---
Add comment

Comments will be edited (grammar, spelling and slang) and authorized at the discretion of Daily Mirror online. The website also has the right not to publish selected comments.

---