---



Talk to the people of Athens and you'll hear one phrase repeated again and again: Athens is not what it used to be. And they're right; it's better.

Greece is synonymous with the Olympic Games and fittingly, it was the Olympics which revived Athens' fortunes. When the city failed in its bid to host the 1996 Centennial Games, the authorities developed ambitious plans to haul Athens into the 21st century. These plans ensured the city was awarded the 2004 Olympics, and the looming deadline fast-tracked projects that had previously never made it past the discussion stage. Developments included major expansion of the road and metro network, and the construction of a new international airport.

The legendary city, capital of Greece since 1834 and the cradle of Ancient Greek civilisation, is now one of the most civilised societies in Europe. Once known as much for its faults as its assets, Athens is today a pedestrian's paradise full of art, antiquities, music and entertainment. Museums and galleries have been carefully renovated and air-conditioned, the streets are clean, and five million Athenians – 40% of the Greek population – have reason, once more, to be proud of their city.
Flights to Athens, Greece

Attractions

Athens has no end of attractions, but the majority of the tourist trail is confined to a small area surrounding the city's landmark UNESCO World Heritage Site, the Acropolis. This 'sacred rock' towers above the charming historic districts of Plaka. Thision, Psiri and Monastiraki, which feature restored 19th century neoclassical homes, pedestrianised streets and picturesque ruins from the city's Roman era.

Start your tour at Syntagma Square, dominated by the neo-classic Old Palace, the seat of the Hellenic Parliament flanked by King George II Palace on one side, and the National Gardens on the other. A short distance south is the Zappeion Exhibition Hall, an archetypal example of Greek public architecture.

Less than a kilometre west is the South Slope of the Acropolis, the location of many Ancient Greek monuments and sanctuaries and an area of great historical and archaeological significance. Finally, make your way up to the flat top of the Acropolis where you'll witness Greece's most iconic structure, the Parthenon. This temple, dedicated to the Greek Goddess Athena who gave her name to the city, was built around 2,500 years ago and dominates the city skyline.

Dining and Nightlife

Athens is well known for its lively dining and nightlife scene, but don't expect to be smashing plates every night. This centuries-old tradition, linked with the Greek concept of kefi (high spirits and fun), fell out of favour many years ago and the custom is usually only rolled out for tourists.

Greek cuisine is delicious, and falls loosely into two categories: seafood and grilled meat. Upscale fish restaurants can be found in the small port of Mikrolimano, while the town of Anavissos is best known for its seafood tavernas, as is the pine-shaded beach at Schinias, near Marathon. Fish is often sold by the kilo and prices vary wildly, so check before you order. Meat lovers should head to Vari, an area south of Athens jokingly known as 'Cholesterol Valley'. It is famous for its Psistarias, Greek grill-houses which serve roasted meats cooked over hot coals.

Nightlife is equally good and ranges from jazz to disco, heavy metal to bouzoukia. The latter is a truly Greek phenomenon; musicians perform on a live stage while the audience throws flowers. Clubs are located around the city in places such as Psiri, Syntagma, and Glyfada, with many of the cafés, bars and ouzeries located in Plaka and Thision.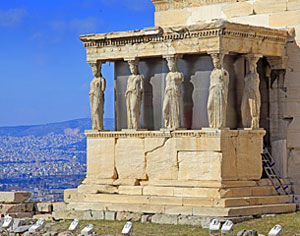 Beyond Athens

Around 12km south of Athens, and just a short metro journey, is Piraeus. The largest port city in Europe, Piraeus is also the staging post for numerous trips to the famous Greek Islands.

From here it is just a short hydrofoil ride to the tiny Saronic Islands of Aegina, Agistri, Hydra, Poros and Spetses, or a longer hour ferry ride to the major Greek Islands of Mykonos, Kos, Lesbos, Crete and Rhodes. Alternatively, charter a yacht –not necessarily as expensive as it sounds – and discover the tranquillity of the Aegean Sea from the comfort of your own private deck.

Discover Emirates comfortable inflight offerings, which include luxurious sleeper seats First Class spacious sleeperettes in Business Class and a new generation of comfort in Economy Class on flights to Athens. All classes feature ice, Emirates onboard information, communication and entertainment system offering up to 1,500 channels, making flights to Athens pass quickly.
---
Add comment

Comments will be edited (grammar, spelling and slang) and authorized at the discretion of Daily Mirror online. The website also has the right not to publish selected comments.

---