---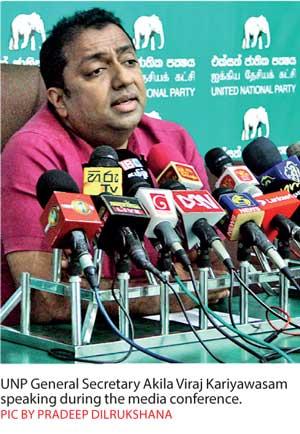 By Yohan Perera
The United National party (UNP) yesterday urged the government not to use schools to station security forces who return from leave and as quarantine centres, UNP General Secretary Akila Viraj Kariyawasam said yesterday.

Mr. Kariyawasam who was referring to a report that Colombo schools were to be used to station security forces personnel who went on leave and returned, said schools should not be used for that purpose. "Some of the workers including those who keep watch are at work in schools despite curfew. Therefore they could get infected from the troupes who return from leave and stay at schools. If these workers get infected the children too would be running a risk of contracting the disease when schools reopen shortly," Mr. Kariyawasam said.
"Hotels that are closed at the moment could be used to station the security forces members who return from leave," he added.

He also said there were issues on the accuracy of government figures on the infected persons. " Testing is not done adequately despite repeated requests by us and experts in the health sector and one cannot trust the statistics that have been put out by the authorities because of this reason," the former MP said while highlighting that anti body tests should also be carried out.

He said the UNP was also of the opinion that Parliament should be reconvened. " We don't intend to play politics if the House is convened as we only want to support the government to get new legislation passed to combat COVID-19 and also to approve funds for more spending," he said.
Testing is not done adequately despite repeated requests by us and experts in the health sector and one cannot trust the statistics that have been put out by the authorities because of this reason