---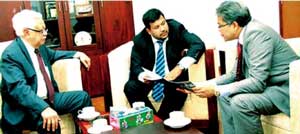 In the wake of the successful B2B MoU between Sri Lankan and S'Pore biz last May, is the next ASEAN bilateral B2B invitation – call for fully fledged MoU between Malaysia and Sri Lanka biz.

"We are highly encouraged by the call for closer B2B linkages between Malaysia and Sri Lanka businesses as Sri Lanka–Malaysia bilateral trade topped $ 800 Mn. The invitation by Syed Ali Alattas, President of NCCIM to visit Malaysia to initiate the Malaysian Chapter of SL-Malaysia Business Council is an important event in our bilateral trade history," said Minister of Industry of Commerce Rishad Bathiudeen.

This was revealed in the aftermath of the courtesy call on him by the Malaysian business delegation led by Syed Ali Alattas, the visiting President of the National Chamber of Commerce and Industry of Malaysia (NCCIM, or Dewan Perniagaan dan Perindustrian Kebangsaan Malaysia), together with Azmi Zainuddin, the Malaysian High Commissioner to Sri Lanka yesterday. Ali Alattas' NCCIM is the umbrella body of no less than five trade, industry and commerce Chambers in Malaysia- the Malay Chamber of Commerce, the Associated Chinese Chambers of Commerce and Industry of Malaysia,Malaysian Associated Indian Chambers of Commerce and Industry, Malaysian International Chamber of Commerce and Industry, and the Federation of Malaysian Manufacturers. NCCIM is also part of two top regional trade bodies-the ASEAN Chamber of Commerce and Industry as well as Confederation of Asia Pacific Chambers of Commerce and Industry.

According to the Department of Commerce of Sri Lanka, 2011 recorded the highest total trade turnover between Malaysia and Sri Lanka at US $ 849.59 Mn. The balance of trade has been heavily in favour of Malaysia during last 10 years mainly due to high volume of imports of petroleum and palm oil from Malaysia. Sri Lanka's exports to Malaysia have been gradually increasing over the last 6 years from US $ 24.87 Mn. in 2006 to US $ 96.39 Mn, in 2011.

Malaysian companies have been involved with construction projects since 1997 in sectors such as hospitality and tourism, energy, oil and gas, water supply and housing projects. Malaysian based Dialog Axiata is a leading mobile telephony operator in Sri Lanka. More recently, the Malaysian owned TKS Group of Companies which has diversified interests in Sri Lanka, increased its presence here specifically in the finance sector.

Private Universities of Malaysia such as MSU, have started coming to Sri Lanka. About 1700 Sri Lankan students are already studying in Malaysia. The first meeting of the Sri Lanka –Malaysia Joint Commission was held in Colombo in June 2006.

Malaysia meanwhile, is a member of the ASEAN Free Trade Agreement (AFTA) and also can benefit from ASEAN-China FTA, ASEAN-Japan Economic Partnership Agreement, ASEAN- South Korea Free Trade Area and Agreement on Trade Preferential System among the Member States of Organization of the Islamic Conference (TPS – OIC) among others.