---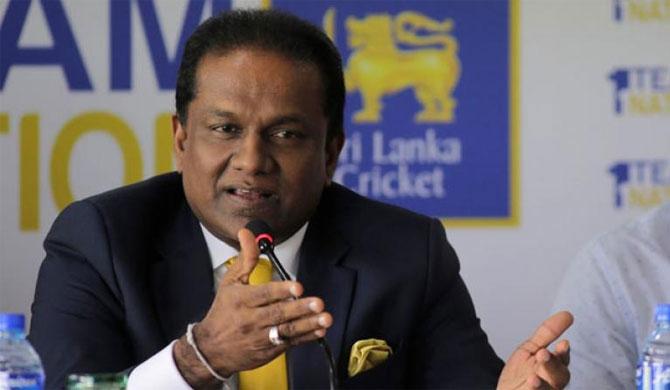 By Champika Fernando
In July 2011, Kumar Sangakkara delivering the MCC Spirit of Cricket Cowdrey Lecture at Lord's, launched a scathing attack on the endless power-struggle that has haunted Sri Lanka ever since it won the World Cup in 1996.
The Sri Lanka Cricket (SLC) has been controlled and administered by a handful of the same individuals, either personally or by proxy, who occupy key positions in turns, either being appointed or via election.
"Unfortunately, to consolidate and perpetuate their power, they opened the door of the administration to partisan cronies that would lead to corruption and wanton waste of cricket board finances and resources," Sangakkara asserted.
"It was, and still is, confusing. Accusations of vote buying and rigging, player interference due to lobbying from each side and even violence at the AGMs, including the brandishing of weapons and ugly fist fights, have characterised cricket board elections for as long as I can remember."
"We have to aspire to better administration," he insisted. "The administration needs to adopt the same values enshrined by the team over the years: integrity, transparency, commitment and discipline."
These sentiments still resonate strongly within cricket circles. With another election at hand, the same people divided into different camps are rallying around to grab power. In cricket, as in politics, there are no permanent enemies but opportunists who change sides to fulfil their own aspirations.
Sri Lanka did reach five World Cup finals during this period winning once (T20) in 2014. But this was largely owing to a group of committed players. In the bigger picture, the game has crashed as a result of the administrations' lack of professionalism, forward-thinking and transparency.
For many of those ills, Thilanga Sumathipala is seen as the main culprit along with the Dharmadasas and Ranatungas. Sumathipala stands out as the 'common enemy', given all the membership support he garnered. Such was his clout that Arjuna Ranatunga complains that even the country's President could not defeat Sumathipala at a SLC election. His detractors have repeatedly tried to freeze him out of administration. In his four stints as head of Sri Lanka Cricket, only once did he manage to complete a full term before politicians replaced him with cronies.
Given his brother, Jagath's involvement in the betting and gaming industry, Sumathipala can no longer contest. But there's a widespread belief that any horse he backs will win the race, as it happened at the last contest with Shammi Silva — Sumathipala's second choice for the post — being elected ahead of Jayantha Dharmadasa, another businessman with perennial interest in the SLC presidency.
But Sumathipala insists he's different now and that he advocates what Sangakkara called for a decade ago: Let cricket be run by professionals with a vision for the game.
"Forget about the election," he said this week.
"Get some good people, let them be elected, then let them run peacefully, together in one direction. I am willing to talk (about this) with anybody since I am not coming forward."
The self-professed Godfather of Sri Lanka Cricket now urges all parties to form a team and for everyone to agree to serve the game. His proposal is for a team to be handpicked and for the entire membership to be convinced to back it for a three-four year period at an election.
"I will talk to all the past captains, from Bandula (Warnapura) to Mahela (Jayawardene), all the elected Board presidents, from Ana (Punchihewa) to Upali (Dharmadassa), to decide on a combination that everyone can agree on," he offered.
"I am willing to bring all parties together."
"Unless we bring everyone together, we will not go anywhere," Sumathipala said.
"I have spoken to the Minister of Sports and told him that his efforts will be in vain if the same bunch of people continue to hold office. It is enough of Thilangas, Dharmadasas and Ranatungas in cricket administration. We will support a good team to get elected and to run cricket. This is the time we must do it. If we don't, it will not be easy to bring about the change the Minister expects."
Sports Minister Namal Rajapaksa has already gained the support of cricketers who have so far kept away from cricket since retirement. Mahela Jayawardene now heads the National Sports Council, an advisory body that is making policy required for a new 'sports culture' in the country. Aravinda de Silva heads the Cricket Committee along with an eminent group of cricketers comprising Roshan Mahanama, Kumar Sangakkara and Muttiah Muralidaran.
"Politicians have ruined cricket," declared Sumathipala, a former Deputy Speaker in Parliament.
"Sports Ministers who wanted to appoint interim committees messed it up. They wanted to interfere in everything, from whom they wanted leading the Board to who should play in the national team. So how can anybody run the Board smoothly?"
This proposal of bringing everyone together and picking the right people to get elected seems convincing at a time when Mr. Rajapaksa is showing genuine interest in fixing the ills of Sri Lanka's favourite sport. Whether anyone will buy it remains uncertain.
"Either I will bring everyone together or I will stay out of it. But this is my thinking. If the Minister wants to bring about a serious change, this is the time for it."
"The challenges we have for the game cannot be underscored enough," Sumathipala continued.
"The current situation is very serious. We need to make some hard decisions. You need to go and negotiate and bring in our revenue streams. We have been running this game by securing our revenue streams. At the same time, we have got used to incurring a lot of expenditure based on our incomes. Now we don't have the luxury of those incomes but continue with the expenses. We will collapse."
Sumathipala has already urged Minister Rajapaksa to gather all past captains and past Board Presidents, to look at the situation objectively and to secure good people whose "heart is in the game". They must work for three to four years, uninterrupted, without political interference. In the past, multiple interim committees were appointed and coaches sacked by Ministers.
SLC's election is on May 20 with a Ranatunga faction likely to challenge the current administration headed by Shammi Silva. Having doled out millions to clubs for 'development work', Silva is on a strong wicket to win another two-year term. Whether he is right for the job is anybody's guess. Cricket has suffered and will continue to do so unless drastic changes are brought to administration. Sumathipala's proposal would be a good start for professionals like Roshan Mahanama to join cricket administration.