---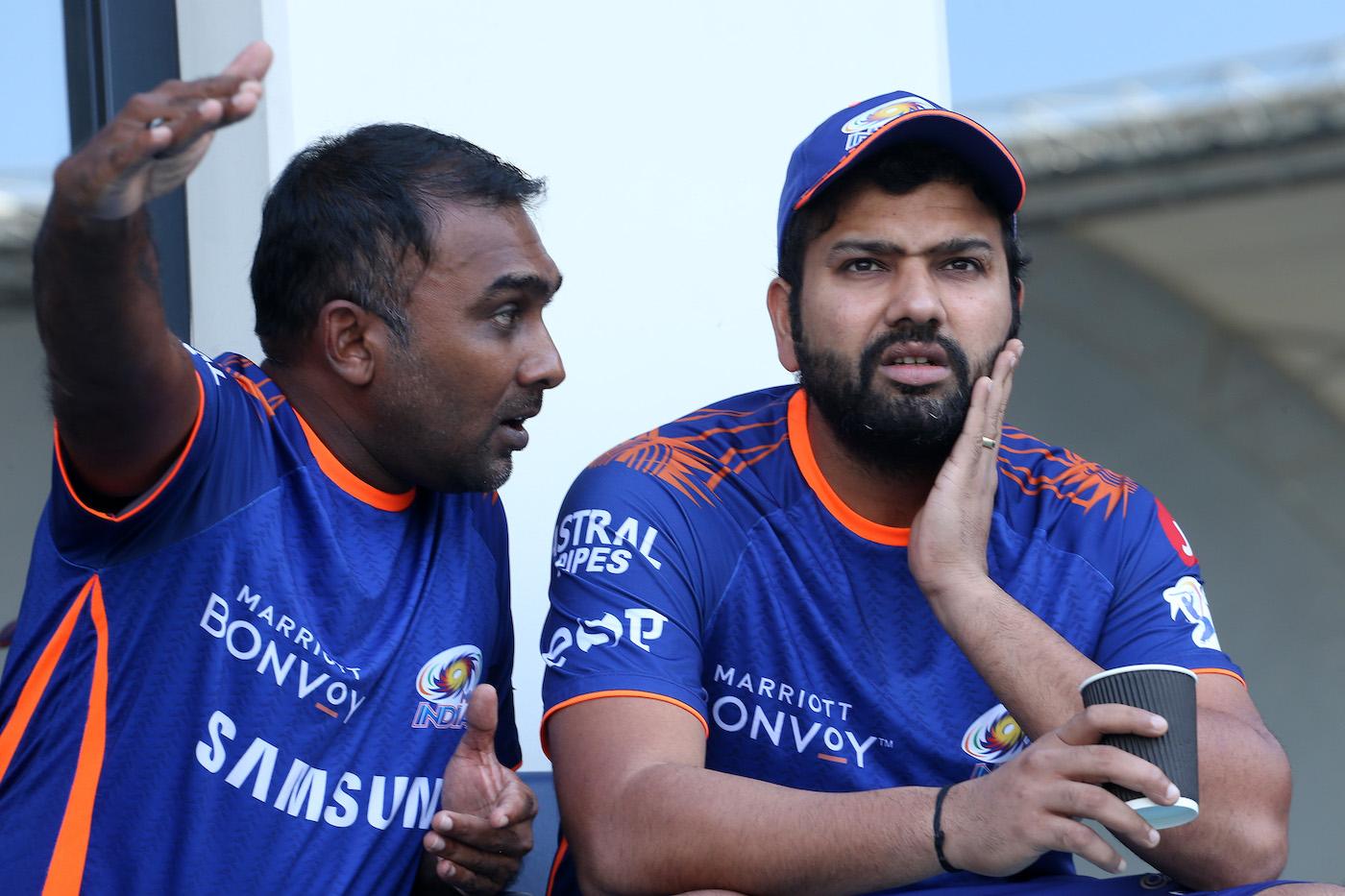 Mahela Jayawardene and Rohit Sharma plan things before the game, © BCCI
With just one win away from annexing their third IPL title in four finals under his watch, Mumbai Indians head coach Mahela Jayawardene can easily land a lucrative coaching stint with the Sri Lanka national team.
But Jayawardene isn't interested – not because he doesn't enjoy coaching or doesn't wish to give something to the country that made him the cricketer he is. He is repulsed by the deep-rooted politicking within the Sri Lankan system.
"I would only work in an environment I am comfortable with," Jayawardene said when asked whether he would accept a role with the national team.
"If you take the Mumbai Indians, they have given me the freedom and they have supported my ideas. That's important and I do not wish to join an environment that I am not comfortable with."
The Sri Lanka national team has not been easy to work with. They have had five coaches since 2016 including two interim appointments. Jayawardene is among many other Sri Lankan former cricketers who have repeatedly refused to join ranks with Sri Lanka Cricket for varied reasons.
"I have always said we need to have a proper system in place," he asserted.
"But we have not seen this over the years. As much as I would love to give back what I have gained to the game, I do not want to join an unprofessional set-up."
Jayawardene took over as Mumbai Indians head coach replacing Ricky Ponting in 2017. Since then, he has enjoyed unprecedented success working alongside a group of professionals from around the world. Having topped the group stages this season, Mumbai beat Delhi Captials comfortably to book a berth in Wednesday's final.
They will defend their title either against Delhi Captials or Sunrisers Hyderabad following today's last eliminator.
"I never thought I would do this after my retirement," Jayawardene said speaking to the Sunday Times from UAE.
"But I am enjoying every moment of it now, passing years of my experience to the players. This is a great franchise to be involved with, a highly professional environment."
"I am pretty happy with what we have achieved so far during my tenure as their coach," he continued.
"There's a lot that goes on behind, from the player auction to where we are today. We are just a step away from defending the title. The credit should go to the team owners for the support they have extended to everyone from players to supporting staff specially in these difficult times."
Jayawardene, who has scored over 25,000 international runs across all three formats during his 16-year international career, is considered to have one of the smartest cricketing brains.
"Coaching at this level is management, creating an environment for the players to achieve their best," he said.
"There's a lot that goes on behind the scene like making strategies for every match, every opposition player, we are playing against."
Jayawardene admits that playing in the new normal is much more challenging but says it's something everyone will have to get accustomed to.
"We have been in this bubble for almost eight weeks now, including the quarantine period, and it's not easy but this is something we have to get used to now," he added.
Commenting on the final, Jayawardene said they are all geared to lift the cup no matter who the opponents are.
"They (Delhi Captials and Sunrisers Hyderabad) offer different challenges but we are ready to take them on and win the title."