---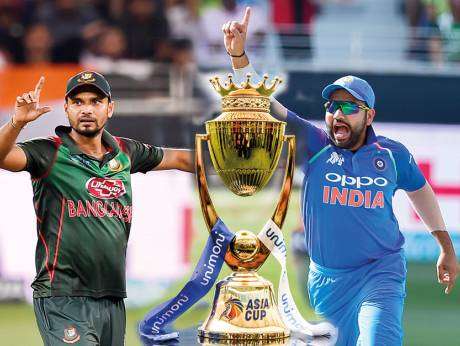 It will not be an India-Pakistan Asia Cup final as many cricket fans expected. Bangladesh, through a superlative performance, stopped an unimpressive Pakistan on Wednesday in their tracks and will take their rightful place in the showpiece in Dubai on Friday.
India, who have played brilliant throughout the tournament, may have been looking to record a hat-trick of victories over their arch-rivals in this edition of the competition. On the other hand, Pakistan fans were hoping that through a stunning show in the final, they would be able to make up for all their poor performances thus far and walk away with the trophy.
Bangladesh upset Pakistan's plans and are on the move through a creditable all-round show. They may not be able to match India in experience, especially that of their top players, but surely they can make up for everything through their fighting spirit. For them to have reached the final without their star opener Tamim Iqbal, who fractured his wrist, and all-rounder Shakib Al Hassan, who has aggravated a finger injury and flew out without playing the last match, speaks volumes about their determination.
The fact that the final clash is between India, six times Asia Cup champions, and two-time winners Bangladesh, could give India the psychological advantage. However, Bangladesh have a squad that has been improving at a brisk pace. There was a time when Bangladesh were swept aside by the UAE team to qualify for the 1996 World Cup. Today, they have conquered some of the best one-day teams in world cricket, and even India cannot be fully confident of being able to subdue them in the final.
This final clash will be a repeat of the 2016 Asia Cup final, although that was played as a T20 tournament. India had beaten hosts Bangladesh by eight wickets to emerge winners for the sixth time, to shock the home fans. Bangladesh will be eager to avenge that loss and expect their players to rise to challenge India's dominance and not succumb to the pressure, just the way they did in the Super Four match in Dubai on September 21.
In that match, Bangladesh's batting cracked against the tight bowling, led by left-arm spinner Ravindra Jadeja, who was backed by medium-pacers Jasprit Bumrah and Bhuvneshwar Kumar.
Bangladesh, in all their matches in this Asia Cup, have fought back despite losing early wickets. In their first match against Sri Lanka, deadly pacer Lasith Malinga had picked two quick wickets, but they recovered through Mushfiqur Rahim's 144 and Mohammad Mithun's 63. On Wednesday against Pakistan, Bangladesh were reeling at 12 for 3, but again Rahim through a knock of 99 and Mithun's 60 gave them a total to sink Pakistan.
It is their fighting spirit that has lifted Bangladesh to great heights. It began from the first match when opener Tamim Iqbal came out to bat with his fractured wrist. Bangladesh skipper Mashrafe Mortaza considers that as a special spectacle to savour. "Let me be honest, the moment Tamim entered the field against Sri Lanka as the last man to help Mushfiq score those runs, my Asia Cup was won," he said during the pre-final press conference. "Every tournament has been a distinct journey, whether 2012 final against Pakistan or 2016 against India. Every time we encountered a few situations overcame and got into the finals. This journey in this tournament was a difficult one as we started losing players from the very first game, victories. This year we are in final without our top two performers, and boys should feel proud about it."
Mortaza even said that the journey of Bangladesh to this final is an example for youngsters. "I think it's a great lesson for the boys and young players will learn that it's all about fight till the last ball," he said. "It was difficult [road] to final without performer like Shakib and Tamim not being available. Good thing is that boys didn't give up although we lost at the group stage against Afghanistan and India. Boys have done really well and with a match to go we can fight on…