---
While still inexperienced at international cricket, Dimuth Karunaratne, Sri Lanka's preferred Test opener in recent tours, is keen to establish his place on the national side.
In an interview with mirrorcricket.lk, Karunaratne says scoring as many centuries as possible in Test cricket his main aim.
Watch the Video


Excerpts from the interview:
Q. A score of 152 against New Zealand—is that the best Test innings so far?
Yes, certainly the best Test century but if you're asking for my best Test innings, I would point to the 85 I scored in Sydney against Australia.
It was my fourth Test match and I played well against the Australian bowling attack under trying conditions.
There was good support for me from Mahela (Jayawardena) and Kumar (Sangakkara) and I think that innings certainly helped boost my confidence.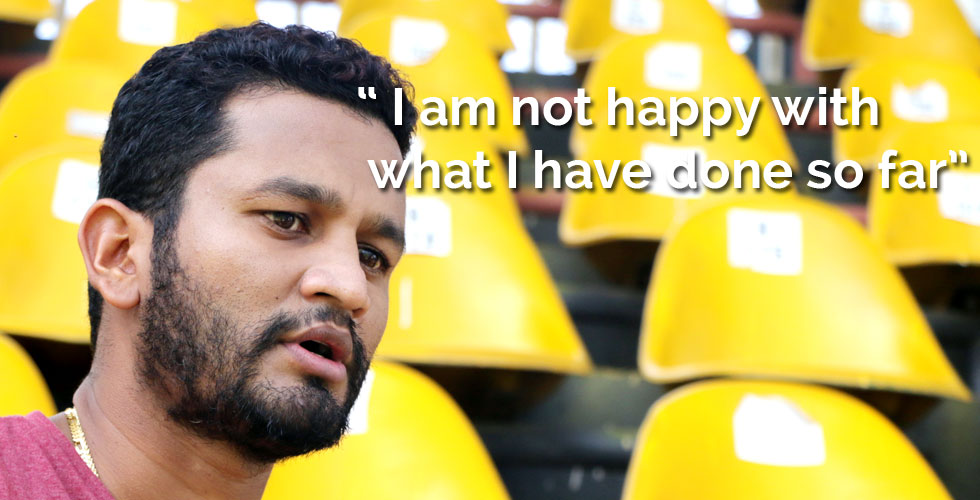 ---
Q. Permanent opener in the Test side, your thoughts?
To play for your country is a huge thing, no matter where you bat. I am happy that had a chance to open batting for my country but I am not happy with what I have done so far.
I can do a lot more than this. I am training really hard and hopefully I can do better in the future series.
---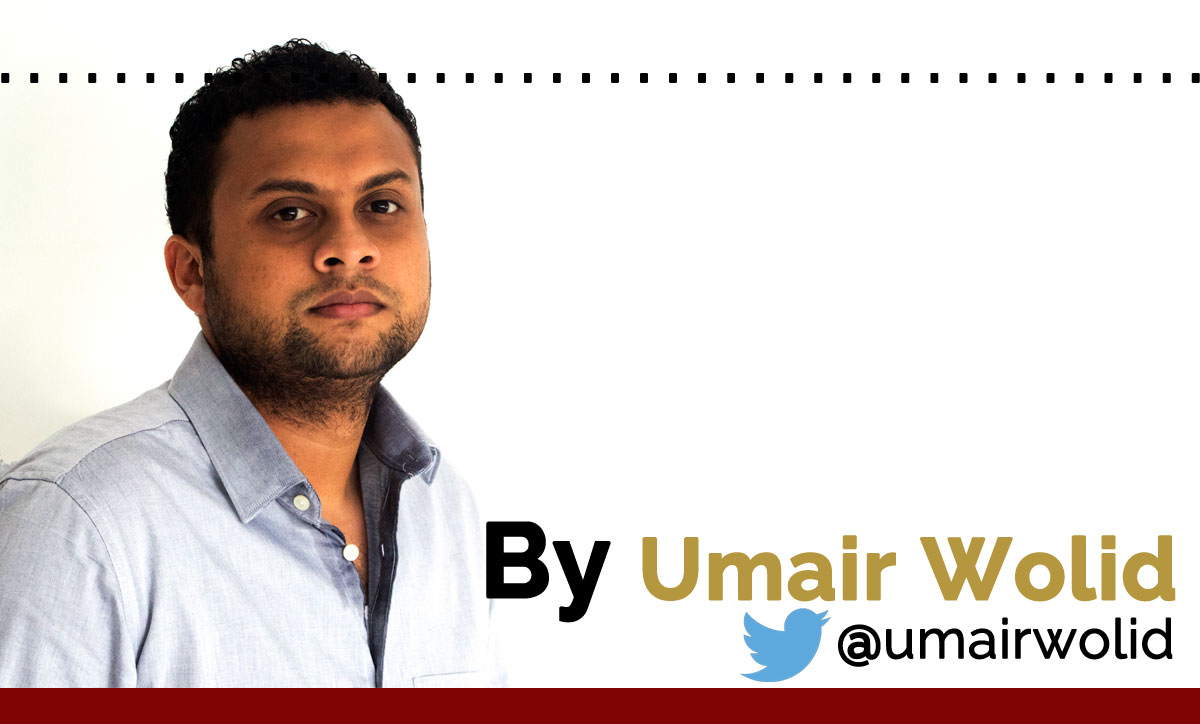 Q. Disappointed about the Australian tour?
Yes, definitely. I was vulnerable against the left arm seamers. I got out five times for Mitchell Starc during the series.
However, after the series, I did analyse videos to see where I went wrong and did a lot of work with batting coaches to rectify my weakness against the left-arm seamers.
I did well in the next series. As players, we go through these bad patches but we can only learn from those mistakes and move forward.
---
Q. You have a better record in the second innings?
If you take a Test match, I think there's lot more pressure in the second innings than the first one. I believe I absorb the pressure very well, which is one of the reason for my success in the second innings.
Also, when batting in the first innings, there's not much pressure, so I tend to play much freely. Because of that, I think I make a lot of mistakes.
But in the second innings, you are determined not to repeat those same mistakes which I think help to construct a good innings. If you look at my domestic career, I have always scored well in the second innings.
---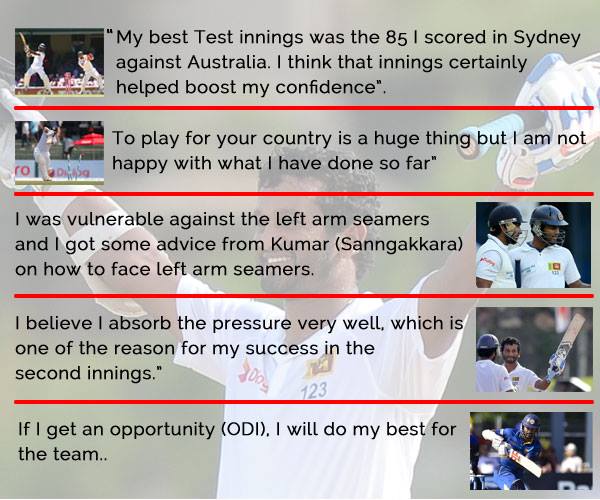 Q. How disappointed were you when an injury ruled you out halfway through the World Cup in 2015?
I was part of the 15-man squad for the New Zealand series and the World Cup. Unfortunately, injury forced me out of the World Cup. If you look at my performances during the limited over series in New Zealand,
I don't think I did any justice for my selection. It was tough for me to switch from Test to limited-over cricket. But as the World Cup nears,
I was shaping up very well. Then I was ruled out after a few matches with a broken finger.
---

Q. You have been in and out of the ODI team since you made your debut five years ago. Why?
I broke into the national side first as a limited-over player but there was no regular place for me in the side as most of the players had well-established places. Besides, I was tied up with the national team as a Test player.
So, I hardly get the opportunity to prove my skills in the shorter form even at domestic level. So it's not easy to get into the limited-over side. If I get an opportunity, I will do my best for the team.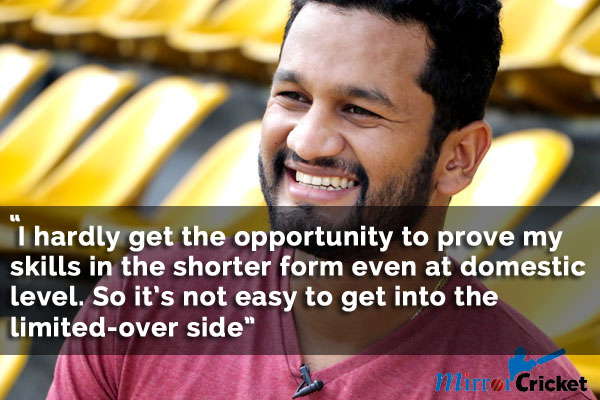 ---
Q. Can you recall the early stages of your career?
I started playing for the U-13 team while studying at the Susumawardhana Vidayalaya, Borella. I was a passionate softball cricketer at that time. But, one day, a friend of mine invited me to join him for cricket practices and I readily agreed. Soon after, I was selected for the school U-13 team.
I was there for just one season before moving to Asoka College, Colombo. There I managed to win the coveted best player award.
When I scored 160 against St. Joseph's, Harsha de Silva, who was then the St. Joseph's coach, invited me to join the school. It was the turning point in my career. I moved to St. Joseph's, heralding a new chapter in my life.
I was a member of the school's U-15, 17 and the first XI teams led by current national skipper Angelo Mathews. While playing for the school's first XI team, I was selected for the national U-19 team.
Soon after leaving school in 2010, I was inducted to the Sri Lanka A side as a limited-over player.
I then was selected to tour South Africa with the Sri Lanka A side and performed really well there. In one of the matches, I scored 150 runs in the first innings and further 70 odd runs in the second innings. I think the selectors were impressed with my performance and I was called for national duty.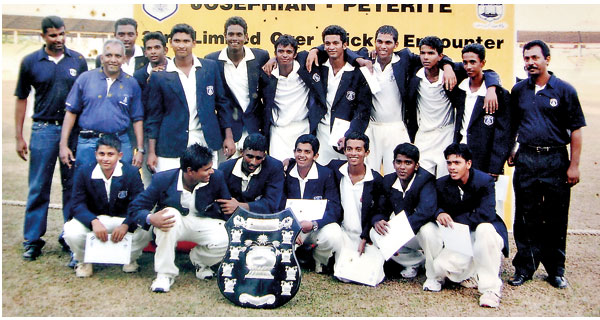 ---
Q. You have played alongside Angelo Mathews and Thisara Perera in school. What are your memories?
My association with Angelo goes back to the U-15 side in which we started playing together. Thisara joined the U-17 side. So we played about five years together in school.
Angelo was my skipper in school and we know each other very well. This has helped my career with the national team. He knows my strengths and weaknesses very well.
---
Q. Future plans and expectations?
My main aim is to establish my place in the Test side. I need to perform consistently for that. Once my place is secured in the side, the next aim is to score as many centuries as possible.
It's not easy to get 25-30 centuries but that's my goal. I am also keen to get into the ODI team. I am really working hard on it at the moment.
---

Q. Family life?
I am married now. But my early life was spent with my parents and sister. They have been my strength for many years and even today.
As cricketers, we hardly spend time at home which makes it tough for the families. But I have a very understanding wife who is behind my every move.
---
Photographs by : Dushyantha Rathnayake
Interviewed by : Umair Wolid