---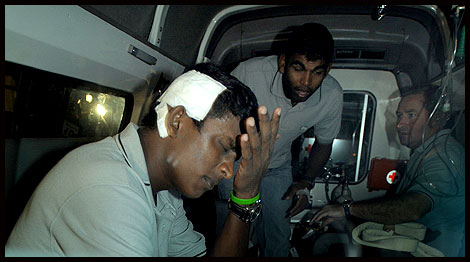 Mirrorcricket: Eight years after the terrorist attack on Sri Lankan cricketers in Lahore, former Sri Lanka skipper Kumar Sangakkara calls for an impartial inquiry to bring those responsible for agreeing to tour Pakistan to books, despite security concerns.
Speaking from London through skype, Sangakkara said that the cricket administrator then turned a blind-eye to their concerns.
"I am sad that those people who agreed to send us on that tour weren't there to take the responsibility for the attack," Sangakkara said. "I think Sri Lanka Cricket should bear the full responsibility for the attack in Lahore.
Early morning on March 3, 2009, a Pakistani militant targeted the bus carrying the Sri Lankan cricket team at Lahore's Qaddafi Stadium for day for three of their second match against Pakistan injuring seven players of the Sri Lankan national team. The attack killed seven people and injured 20, including the Sri Lankan cricketers.
"It was like we were sent to die? There was hardly any concern about the safety of the players. Players got gunshot injuries. In fact I even have some iron particles in my body. We need to investigate and see whether the tour was agreed with full consideration for player safety or whether it was to please an individual. I think it's the right time to investigate it and bring those responsible to books," he added.
Kumar Sangakkara was among those seven Sri Lanka cricketers suffered injuries during the attack. No international cricket team has toured Pakistan since then causing huge financial losses to them. Recently Pakistan invited Sri Lanka once again to tour Pakistan but Sri Lanka cricket turned it down.