---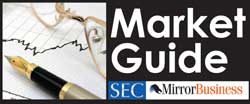 These days, getting involved in the stock market is just a few clicks away. But that doesn't mean investing is made less risky for newcomers. New investors are expected to be vigilant when investing in the market when compared to seasoned investors. With this issue in mind, let's discuss the common mistakes made by new investors.

Investors beware: past is not future
The most common mistake is assuming that the future will look like the past. To be more specific, new investors draw all sorts of faulty conclusions by assuming that the results of one particular period will look like the results of some other particular period.
New investors will often look at a recent bear market and assume that the lesson to be drawn is that stocks are an undesirable investment going forward. Conversely, new investors will often look at a recent bull market and assume that they should expect stocks to keep going straight up. Then they're shocked — and turned off of stocks — when they encounter their first bear market.
We can look at the past to get an idea of what can happen and, in some cases, we can look at the past to determine what tends to happen but looking at the past does not show us what will happen.

First-time investors, don't try to time market
Don't try to time the market. One thing that even Warren Buffett doesn't do is to try to time the stock market, although he does have a very strong view on the price levels appropriate to individual shares. A majority of investors, however, do just the opposite, something that financial planners have always been warning them to avoid and thus lose their hard-earned money in the process.

Here's an investment tip: don't listen to investment tips
The biggest mistake first-time investors make is they believe that they must identify winning investments before they invest. The second-biggest mistake is listening to family, friends and gurus, who claim to identify winning investments. First-time investors, like most long-term investors, do better with diversified portfolios, aware that winning investments are easier to identify in hindsight than in foresight.

First-time investors: know your appetite for risk
A mistake first-time investors make is that they don't properly think about 'risk' versus 'reward'. They tend to invest in riskier investments than they really have an appetite for. Then when the value of the riskier investment declines, they will panic and sell out of the investment due to the decline.
If they had taken a more considered view of risk and reward, they would adopt investments that are more in line with their desire for risk and thus they would be less likely to sell out of their investments at the wrong time.

Investors must accept markets are unpredictable
Not accepting the simple fact that it is impossible to accurately predict what the market is going to do is dangerous. When asked, "Is now a good time to invest in stocks?" The answer is always, "If you don't need the money for at least five years and preferably 10 years, then yes."
Could the market drop the day after you make an investment? Yes, but it could rise, as well. While professionals can tell you the factors that may cause the market to rise or fall, they can't tell you if the market will rise or fall. Everyone is working with a cracked crystal ball. All we know for certain is that the market will rise and eventually fall. The sooner you accept this reality, the better off your portfolio will be.

Don't invest your emergency money
The most common mistake we see first-time investors making is investing money in the market that should actually be kept in an emergency fund or cash cushion. Or, said slightly differently, the mistake is investing the money that you know you need to spend in the near to medium term.
Rule number one of investing is to make sure you can leave those funds in the market for at least five years (and 10 years is better).
While markets over the long run are driven by the underlying earnings growth and performance of the entities they represent, in the short run they are fuelled by excitement and fear—both of which can be quite unpredictable. This is why it's vital to be able to stay in the market long enough until the underlying long-run economics of the entities in which you are investing can trump the short-term human sentiments.

Don't ignore your investment losers
First-time investors are attracted to the latest investment winners and ignore the losers. The problem with this philosophy is that investment winners and losers tend to rotate due to many influences, including the business cycle and interest rates. If first-timers fully understood that rotation exists in the investment world, their gaze would analyse recent losers and winners quite differently.