---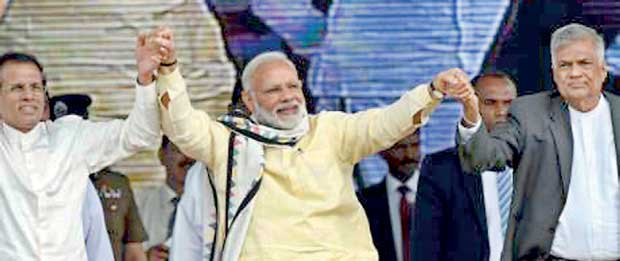 The recent back-to-back visit of Sri Lankan Prime Minister Ranil Wickremesinghe to New Delhi and Indian Premier Narendra Modi to Colombo reinforces the two neighbouring countries' commitment to strengthen a long-standing partnership

GULF NEWS: The recent back-to-back visit of Sri Lankan Prime Minister Ranil Wickremesinghe to New Delhi and Indian Premier Narendra Modi to Colombo reinforces the two neighbouring countries' commitment to strengthen a long-standing partnership that seeks to enhance all-round prosperity and development.
By embarking on his second visit to the island nation since assuming office in 2014, Modi seems to have given a clear message that New Delhi is determined to reverse the prolonged neglect of a special relationship, which is not only more than 2,500 years old, but often marked by a lack of understanding on the part of India of Sri Lankan nationalism.
As Nihal Rodrigo, former Sri Lankan Foreign Secretary, who had also served as the Secretary-General of South Asian Association for Regional Cooperation, put it candidly, "India and Sri Lanka have had deep relations, not always cooperative and yet mutual engagement with each other has more often led to be a major asset to both countries."
Indeed, Modi's effort to transform India-Sri Lanka bilateral relations, through a calibrated mix of cultural diplomacy and robust economic cooperation attains great significance at a time when China is aggressively harnessing its strategic One-Belt-One-Road initiative to make deeper forays into India's extended neighbourhood in South Asia.
Recognising its shortcomings in conventional economic diplomacy because of the inability to invest lavishly in transcontinental infrastructure initiatives unlike China, New Delhi has taken the right approach of giving special emphasis on historical linkages that have shaped South Asia's geopolitical traditions, apart from enhancing the existing economic engagement with Colombo.
Very rightly, Indian foreign office mandarins are carefully extricating the India-Sri Lanka ties from the morass of mutual distrust, caused by the interventionist policies of the 1980s, in order to try and create a conducive and harmonious atmosphere for greater economic integration. But then, that is easier said than done.
In the words of Professor S.D. Muni, former Indian diplomat and an eminent South Asia expert, apart from being the first Indian to be conferred 'Sri Lanka Ratna' — Sri Lanka's highest national honour: "Sri Lanka has a strong and alert middle-class that does not always sees all its interests tied to India economically, as it would like to play competitive forces based on its strategic location."
Muni believes there will be reservations in Sri Lanka on issues like speedy conclusion of second-generation trade agreements and that "economic relations between India and Sri Lanka will grow depending on the areas of mutual interests and may not be defined by any one side, least India."
Former Central Bank Deputy Governor Weerakoon Wijewardena agrees that negative sentiments may lead to truncated agreements but emphasises simultaneously on his country's need for deeper economic engagement with India to successfully align with the Asian supply chain.
India, being Sri Lanka's second-largest trading partner after the United States and a source of about 20 percent of its imports and 5 percent of exports, is of great importance to Colombo so far as trade and commerce is concerned, feels Wijewardena, while recollecting how India came to Sri Lanka's rescue when the latter was facing a severe external sector crisis.
"On many occasions, New Delhi had extended a generous SWAP facility to the Sri Lankan Central Bank for enabling Colombo to wade through foreign currency shortages to meet its external sector obligations," says Wijewardena.
Indian policymakers hit a real masterstroke by invoking Buddhism to mend the derailed India-Sri Lanka tie. After all, it was a Sri Lankan Buddhist monk, Anagarika Dharmapala, who played the most distinct role in preserving Buddhist heritage in the Indian subcontinent through his Kolkata-based organisation, Maha Bodhi Society.
Moreover, spiritual diplomacy not only helps India to put the contentious baggage of interventionist Tamil political agenda of the past to the backburner — without compromising her support for inclusive reconciliation agenda to usher lasting peace in Sri Lanka though — but also underlines New Delhi's disinclination in challenging Sri Lankan sovereignty any longer in the garb of protecting minority rights. Undoubtedly, Lord Buddha is a great leveller, presenting a self-awakened India longing to bring real progress to the people in her neighbourhood through mutually beneficial partnership based on sovereign equality.
The cornerstone of India-Sri Lanka relations is seeking cooperation through consultations based on mutual compromises and avoiding unnecessary confrontation. Global politics is replete with instances of how calibrated diplomacy, painstaking negotiation and hard compromise have helped accomplish the most unexpected results.
According to Rodrigo, "India and Sri Lanka are close in much more than their geographic proximity and do provide even a sample for courage in cooperation and consultations."
SAARC would benefit from the example of Indo-Sri Lanka compromises and cooperation rather than excessive competition, asserts the former Sri Lankan foreign secretary.
Professor Muni, while acknowledging the role and responsibility of both nations in stabilising the Indian Ocean region, however, warns that Colombo may not like to work with India alone on all strategic and regional prosperity issues, partly because New Delhi has never been very enthusiastic in responding to Sri Lankan initiatives on matters pertaining to regional security, that involves countries like Pakistan or China.