---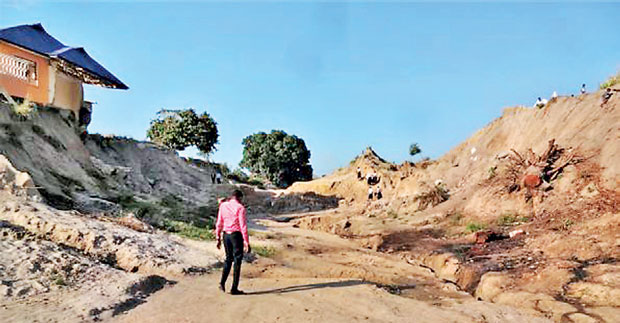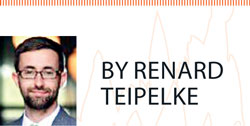 Residents of Chamazi now live with a big crater cutting their neighbourhood in half.
Regular patterns seem to define most people's lives. We usually prepare for the future based on what we experienced in the past. But this approach does not work when dealing with the impact of extreme weather events – which are increasingly less predictable and more severe due to climate change.
I would like to share with you the story of recent disasters in two places that at first sight could not be more different, but which share an interesting lesson for making cities more resilient against climate change.

Let me first take you to my uncle's hometown of Braunsbach, a small town of 2,500 people in the province of Schwäbisch-Hall in southwest Germany. Most people only know this place because of the nearby Kochertalbrücke, one of the world's tallest viaduct bridges.

Fitting the bucolic image of a stereotypical German small town, Braunsbach is indeed a peaceful, quiet place with a nice town centre in the valley, surrounded by houses and green fields on the hillside. One main creek and two smaller creeks run through the town and add to the picture-perfect scenery.

On May 29, 2016, a locally-concentrated rain shower hit Braunsbach. In contrast to usual storms, the clouds did not move away but rather remained hanging over a small area near the hills. The downpour released in a single day as much rain as the area usually receives over several months. The tiny creeks swelled into torrents of water and as the floods came down from the hills they created mudslides and on their way to the valley swept away even seemingly stable structures.

Braunsbach was left an inferno of mud and destruction, and the damage bill amounted to more than US $ 122 million, a big amount for such a small town.

Extreme weather shocks citizens
After I have visited post-disaster Braunsbach earlier this year, my work brought me nearly 7,000 km south to Dar es Salaam, Tanzania. If you leave the main B2 road and take a few connector and slip roads that are not on the map, you reach Chamazi Ward in Temeke District, one of the city's many unplanned settlements.

Chamazi, however, is not the typical dire slum neighbourhood in East Africa. I found a community of loosely assembled houses that lack many basic services, but are built with lasting materials as future investments by hopeful residents.

People extracted sand from a low-lying area behind the neighbourhood with unintended and rather unfortunate consequences for the residents. The rainy season turned the area into a small pond, where both sand extraction and fishing continued. This newly-formed swamp received storm water from elevated parts of the neighbourhood, but did not have a clear direct outflow to the nearby river.
The rainy season earlier this year made the swamp swell up again. One night, a resident came home late from work and saw the water seeping through the area between the pond and the river. He and his neighbours were barely able to escape before over 20 houses and an entire 4,000 m2 area were flushed away.

In both Braunsbach and Chamazi, extreme weather events left people in horror about nature's disregard for the built environment. No one died, but citizens lost their properties and their livelihoods were put at risk.

Reconstruction efforts and flood resilience planning have started in Braunsbach. But people in Chamazi now live with a big crater cutting their neighbourhood in half. Unless adequate drainage infrastructure is built, the next rainy season will again bring storm water running through the earth tracks of the neighbourhood, flooding houses on the way to the river.

Asia is extremely vulnerable
My point, however, is not about the differing reactions to climate-related disasters in an advanced country and a developing one. Instead, both cases are quite emblematic of the kind of climate challenges that many parts of the world face today.

Nevertheless, what happened in Germany and Tanzania is not the "typical" flooding that people envision when imaging future extreme climate events around the world, particularly in Asia and the Pacific.

Asia is extremely vulnerable to the impacts of climate change. A recent ADB report warns that even if climate change mitigation actions are effectively implemented, some subregions, ecosystems, sectors and livelihoods will still be at risk.

Predicting far in advance extreme climate events will be as difficult as to manage. The distortions caused by climate impacts will result in volatility that we are currently not ready for, because most people struggle to imagine crises beyond the scope of those they have experienced in the past.
The thought of heavy rain causing such devastation in Braunsbach and Chamazi never crossed the mind of residents. But since these incidents will continue to occur and likely become more extreme, we must be fully aware so we can prepare for disasters on a large scale.

Only by paying close attention to even the most extreme impacts will communities be able to effectively implement measures to mitigate and adapt to climate change, in Asia and beyond. We must imagine disasters we've never seen before to be ready when they strike.