---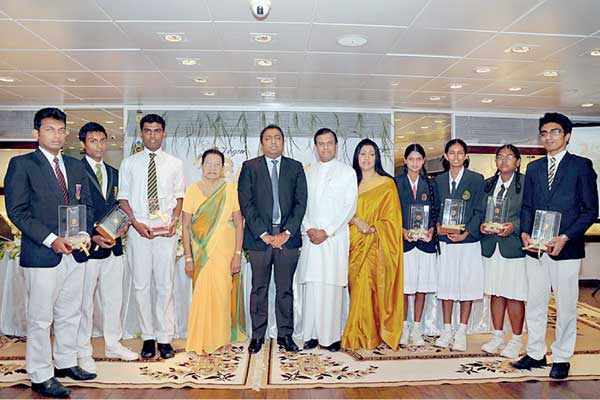 Vogue Sisu Nena Ran Pradana 2015 all island A/L winners with Vogue Jewellers Chairperson Chandra Hemachandra, Education Minister Akila Viraj Kariyawasam, Vogue Jewellers Managing Director Anura Hemachandra and Vogue Jewellers Director Samantha Hemachandra
Sri Lanka's premier jeweller, Vogue Jewellers, delivering its promise for the second consecutive year, awarded Vogue Sisu Nena Ran Pradana to the best performers of the G.C.E. A/L examination of 2015. The grand awards ceremony held with the auspices of the Education Ministry at the Vogue flagship showroom in Kollupitiya was attended by chief guest Education Minister Akila Viraj Kariyavasam, senior officials of the ministry, all island winners, their parents, respective school principals and the media.

Thepuli Karunawallabha of Rathnavali Balika Vidyalaya, Gampaha, Dasun Jayasinghe of Royal College Colombo, Akeel Mohommed of Maliyadeva Boys' College Kurunegala, Jeeva Navanamalee of Maliyadeva Girls' College Kurunegala, Shanaka Samarakoon of St Thomas College Matale, Wasana Marasinghe of Dharmapla Maha Vidyalaya Bandarawela and Buddika Karunarathne of Sivali Central College Ratnapura, who achieved the all island highest score in their respective streams at the G.C.E. A/L 2015 were awarded Vogue Sisu Nena Ran Pradana accolades.
Each winner was recognised with an exclusive 22 carat gold medal, a certificate and a Vogue gift voucher that can be redeemed by the students when purchasing their wedding jewellery in the future. Additionally, a donation of Rs. 75,000 each and a certificate were awarded to the respective schools.
Vogue Sisu Nena Ran Pradana, a brainchild of Vogue Jewellers, was launched over an year ago with a view of recognising excellence demonstrated by the top performers of all streams at the G.C.E. A/L examinations. Elaborating on the concept its Managing Director Anura Hemachandra said, "The highest value we at Vogue Jewellers uphold is our eternal commitment to excellence. It is a virtue the founding Chairman and my father, the late Sarath Hemachandra held high from the inception in 1962 and we are passionate about, to date. We are constantly committed to heighten the standards of excellence in every aspect of our business. This unwavering commitment has been an exemplary aspect that took Vogue to the international arena, bringing fame to Sri Lanka."

"We congratulate these winning students and highly appreciate the efforts of their parents, teachers and principals. We wish them every success in the future. We believe that Vogue Sisu Nena Ran Pradana will motivate our young students to excel in their studies and grow up to be citizens who will pursue excellence in every aspect of their lives. Our appreciation also extends to the chief guest - the minister -and the senior officials of the ministry for the co-operation extended to us," Hemachandra added.

Vogue Jewellers has been carrying out a multitude of corporate social responsibility (CSR) projects throughout its history. Renovating a series of Buddhist, Christian, Hindu and Muslim places of worship with the unique 'Ape Pansala' programme; sponsoring grand weddings of 12 deserving couples of different ethnic groups under the programme 'Mangala Sihina'; housing projects, recognising and rewarding legendary artistes and donating equipment to hospitals are among countless projects Vogue has been regularly carrying out.

The highest standards Vogue maintains in its eternal pursuit to exceed its own benchmark of excellence has made them become the most awarded jeweller in Sri Lanka. The exquisite designs and craftsmanship of many a Vogue's jewellery have bagged Sri Lanka's highest number of international awards. Furthermore, the unwavering high standards Vogue maintains from raw material to design, craftsmanship and eventually the service offered to its customers have earned the coveted ISO 9001-2008 certification and be recertified consecutively for six years, thus, making Vogue the only jeweller in Asia to be recognised in this manner.