---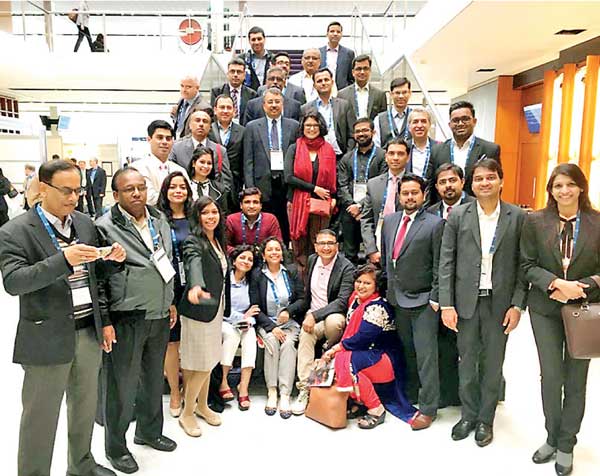 GRI South Asian delegation
International sustainability standard setter Global Reporting Initiative (GRI) successfully completed its fifth Global Conference, at Amsterdam, Netherlands with more than 1100 participants from 77 countries. Sri Lanka was represented by leading blue chips namely Dialog Axiata PLC, John Keells Holdings PLC and Maga Engineering (Pvt.) Ltd.

With the theme 'Empowering sustainable decisions' this year's conference focused on the next frontier of sustainability and disclosure, unlocking the full potential of sustainability reporting as a tool for transformational change. During the three-day conference, GRI scaled up its impact by announcing over a dozen new partnerships in sustainable development, technology and innovation.

Commenting on the conference GRI Chief Executive Officer Michael Meehan said, "For nearly two decades, GRI has developed reporting standards that increase transparency around critical sustainability issues such as climate change, human rights and corruption. The fifth Global Conference was focused in creating the next era of corporate disclosure, where sustainability information promotes transparency, trust and confidence in the world's companies, policies and economies. Further, we also focused on how we could leverage the value created through the sustainability reporting process as an even more effective catalyst for collaboration and change."
A special session focussed on the South Asian region was held with the discussion aiming at South Asia becoming more transparent and sustainable economy.

"This conference emphasised on the transformational change required for the next era of sustainability – in particular the need to enhance the value of the sustainability reporting process and the impact that it can have on some of the world's most pressing issues especially in the South Asian region," said GRI Stakeholder Council Member Kishor Hameed.

In addition, GRI, the United Nations Environment Programme (UNEP), KPMG International and The Centre for Corporate Governance in Africa, released the fourth edition of Carrots & Sticks, a public resource, which paints the most comprehensive picture of the global sustainability regulatory landscape.