---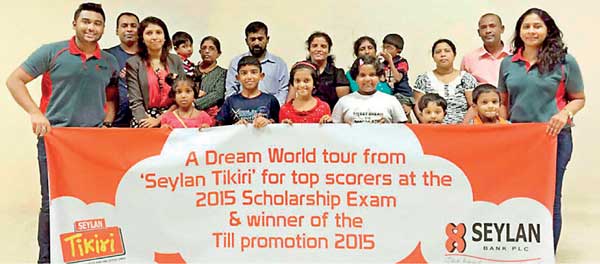 Seylan Tikiri Brand Manager Dimmini Senarathne with the children and their parents who returned from Dream World, Thailand
A grand welcome organised by Seylan Bank was received by the lucky Grade 5 scholarship achievers and Tikiri Creative till competition winners, whom were rewarded with an all-expenses paid holiday to Dream World in Thailand.

Being the preferred minor savings account of the country, 'Seylan Tikiri' provided its young customers with a unique opportunity to win gifts and rewards and to realize their true potential and fulfil their dreams and aspirations.

A.D. Rathnayake (Anuradhapura) from Anuradhapura Swarnapali Girls College, who was adjudged for 'Best Creative Till' and M.M.P.B. Akash Fernando from the Katuneriya branch, who saved the highest collection in the till during the promotion period, were the lucky winners who got the opportunity to travel to Dream World.

Along with them, the students who were treated for the Dream World trip were Grade 5 Scholarship winners, Melanie Wijesinghe (Mawanella) from Kegalle/Ussapitiya Shri Sumangala College, W.E. Sachini Kavindra Unantenne (Gampola) from Kandy/Gampola Gangsiripura College and Ravindu Wanigasekara (Kotiyakumbura) from Kegalle Malmaduwa Makura Primary College also enjoyed their adventurous ride.

Each lucky winner was accompanied by a parent and was treated to innumerable delightful experience during the three-day holiday. Seylan Bank sponsored the cost for the return air tickets, airport transfers in Bangkok, star-class hotel accommodation with meals for three nights, transport with entrance tickets to the Dream World theme park, special places of interest and also the visa processing fees to Thailand - ensuring that the winners had no financial burden, and could simply revel in the all-expenses paid experience.