---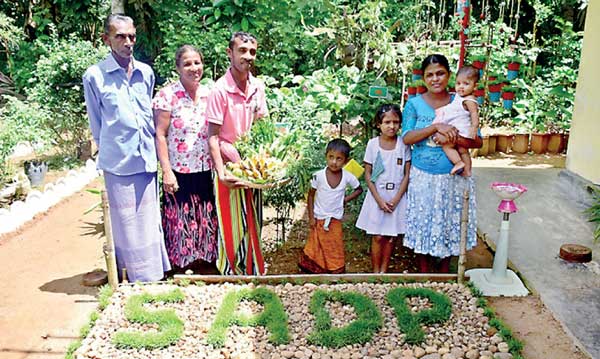 A graduate family of the Sustainable Agricultural Development Programme (SADP) with produce from their home garden
Ceylon Tobacco Company Plc (CTC) celebrates a decade of rural empowerment through their flagship Corporate Social Responsibility(CSR) initiative - Sustainable Agricultural Development Program (SADP).To mark this milestone, the company together with media personnel visited the homes ofSADP beneficiary families in the Galleand Matara districts.

Through this visit, media personnel were able to experienceCTC's unique poverty alleviation programme which has thus far showcased positive results,going beyond self-sustenance to achieving economic benefits amongst ruralcommunities. The programme hasaidedover 71,000 beneficiaries in over 18,000 families in 16 districts across the country.

"In a time when the country's national priority was alleviating poverty which was at 15 percent, CTC brought in the company's expertise in agriculture to empower individuals through SADP. The programme started in 2005 as a pilot project with 100 families and thereafter fully launched in 2006. SADP envisioned guiding beneficiaries towards achieving self-sustenance through knowledge and resources, with a strict policy of no cash assistances, and has aptly done so in the past 10 years. We are quite confident that SADP will continue to sustainably empower underprivileged communities in the years to come," emphasized CTC's Chief Executive Officer and Managing Director, Michael Koest.

SADP supported Sri Lanka's efforts at achieving the Millennium Development Goal No. 1 – Alleviate Poverty. Its immense success through 10 years has hailed SADP as one of the most comprehensive and effective sustainable livelihood development programmes in the world today.It was recognized at the Asia Responsible Entrepreneurship Awards for 2015 and 2016 consecutively while also securing the 'Best Environmental Value Addition Project' in the category of Social Empowerment at the Best Corporate Citizen's Awards organized by the Ceylon Chamber of Commerce in 2013.

Commenting on the project milestone, Legal and External Affairs Director, Dinesh Dharmadasa said, "With the continued expansion of SADP, the CSR arm of the company decided to set up a separate company to establish better control and governance over its development. As such, Outreach Projects (Guarantee) Limited was launched in 2007 with a Board of Directors, Chief Operating Officer, General Manager and a well-designed structure to ensure effective achievement of the project's objectives. In line with this external approach, the project is audited by an independent 3rd party to ensure the project objectives are met on a regularly basis and I am humbly proud that we have continued to surpass objectives year on year."

SADP is a unique concept based on the philosophy of "helping those who are willing to help themselves." The programme empowers families with agriculture knowledge and resources such as seeds, plants and poultry thus encouraging home gardening in addition tobee keeping, mushroom cultivation and goat raring. The focus is on creating a long-term engagement between the
beneficiaries and their path towards self-sustenance. Selected families are part of SADP for a period of 2 ½ years where a dedicated field officer is assigned for regular monitoring. Further highlighting the future plans for SADP, Michael commented, "For 2016, we envision implementing the programme amongst 19,000+ rural families. Furthermore, SADP aspires to continue improving nutritional intake in addition to being a stimulator for female empowerment, combating social harmony, promoting organic farming, improving knowledge of agriculture and utilizing land effectively."