---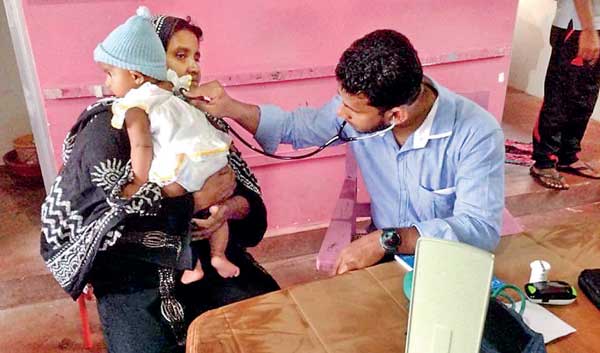 Medical camp at Raxapana, Malwana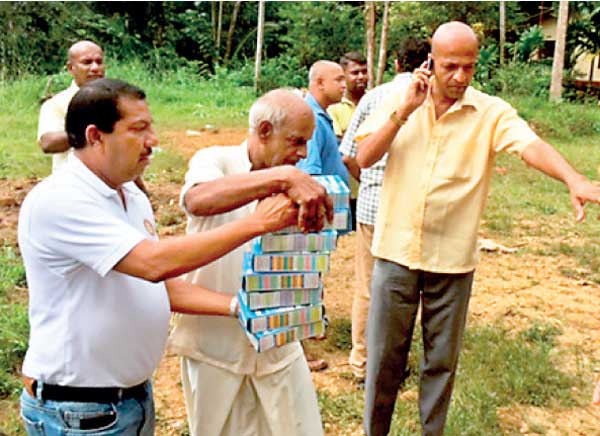 District Governor George and Rotary members distributing dry rations in Kegalle
The Rotary District Sri Lanka heldits annual conferencerecently where over a million in funds collected as profits were directed towards Sri Lankans devastated by the recent spate of floods and landslides.
This year's Conference Committee washeaded by Rotary Club of Colombo Mid City member Kumar Sundararaj and assisted by District Governor George Jesudasan and many other senior Rotarians.
In order to provide much needed medical relief to people who have lost their livelihoods to devastating floods, free medicine was distributed to around 300 people in a medical camp at Raxapana, Malwana. With acute diseases such as asthma and skin allergies now on the rise, volunteer medical doctors performed diagnoses,followed by immediate treatment.

Kegalle, another disaster-stricken region,was provided with items that were in dire need. Relief items provided included medicines, mats, pillows, bedding and blankets, cooking utensils,milk powder and other dry rations. Plans are underway to allocate more funds for future requirements such as furniture and fittings.

Apart from the funds utilised from the conference, Rotary Clubs around the country involved themselves in the relief effort by donating a range of items from food and water;toiletries such as soap, toothbrushes, toothpaste, and sanitary wear and infant needs such as infant formula, drinking bottles, baby food, pampers, nappies and a range of other necessities.

The District Governor for Sri Lanka George Jesudasan said, "Rotary is all about "Service above self "and our premise is ultimately all about helping others. Therefore in times our country has undergone disasters Rotary Sri Lanka has alwayscome forward to lend a hand to those in need . When you get a lot of people working together with a common goal in doing good for others and believing in service, anything is possible. This is just another example of such efforts."

Conference Committee Chairman Kumar Sundararaj added: "As one of the leading humanitarian organisations in the world, we are deeply-rooted in carrying out local community work. We are keen to provide short-term flood relief while also working towards long-term support for survivors."
"We will always be available to lend a hand and stand by Sri Lanka during this difficult period.Wehope that the donations provided will assist the ongoing relief operation and address the most urgent needs ofpeople in the disaster-affected areas," said Sundararaj.

This is by no means Rotary's by first foray into post-disaster relief. Rotary was among those who stepped up in the aftermath of the 2004 Indian Ocean Tsunami, partnering with Standard Chartered Bank to build 26 brand new schools in affected areas.