---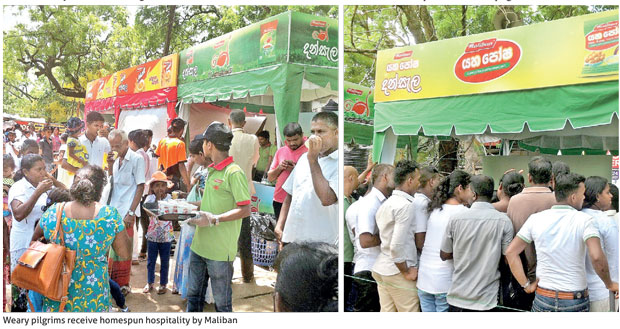 Maliban, the brand that has won hearts all over Sri Lanka for over 60 years, recently welcomed over one million pilgrims during and after the Poson Season with a warm feel of Sri Lankan hospitality.
Led by the popular Maliban Malt and Milk, the engagements were conducted through a series of 'Maliban Dansal' featuring a variety of products under the brand at pilgrim sites in Anuradhapura and Mihinthale.
Commenting on the activity carried out, Maliban Sales and Marketing CEORavi Jayawardena stated "With over 60 years in winning hearts and minds of our consumers we have always strived in being a consumer centric brand with the mission of providing healthy and nutritious products at affordable prices. The Poson season is one of the busiest times to these pilgrim sites and it was a great honour for us to be able to reach out to the public with a refreshment especially given the unpredictable climate situation. It allowed us not only to serve the weary pilgrims, it also gave us an opportunity to engage with the public and gain valuable feedback of our brands perception amongst them. With a record arrival of around 1.2 million pilgrims at these sites, we were delighted to be reminded why we are recognized as a brand that is cherished and trusted in Sri Lankan households."
Whilst Maliban Malt & Maliban Milk led the way, other Maliban products such as Maliban Tea, Yahaposha and Maliban Biscuits joined the activity to showcase synergy and collective vision amongst the gamut of products under the
Maliban Brand.
According to the Poson Committee approximately 1.2 million pilgrims have arrived at the Anuradhapura and Mihinthale sacred sites in light of the 'Poson' Full Moon Poya Day. The committee had stated that more pilgrims were expected to arrive throughout the season and that the necessary infrastructure facilities are ready to be provided for the pilgrims.