---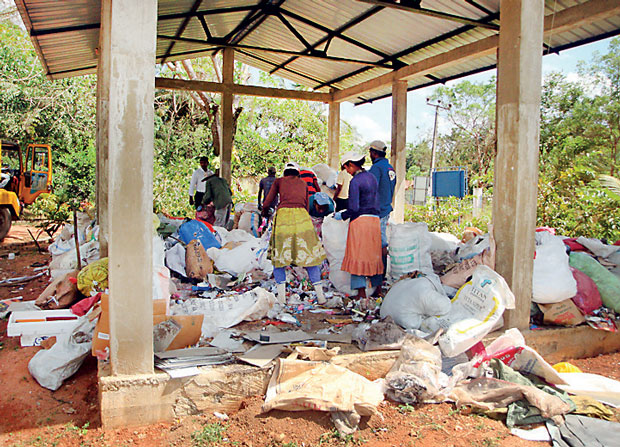 Rapid urbanization, improved living standards, population growth and changing consumer patterns have resulted in an alarming increase in waste, making waste management a national issue. The total municipal solid waste generation in the country is estimated at 6,500 metrictons (MT) per day.
While island wide Municipal Councils are struggling with challenges associated with waste disposal and recycling, Insee Ecocycle, the waste management arm of Insee Cement has spearheaded a well-structured Public-Private Partnership (PPP) for municipal solid waste management in co-processing 'segregated non-recyclable plastic, polythene waste from MSW' since 2014 in Gampaha and Kurunegala districts.
As a pioneering initiative, the partnership has successfully demonstrated how the combined strengths of proactive private entities; the Central Environmental Authority, Office of the Commissioner of the Western Province and participating Municipal Councils, can join forces with a private group to launch sustainable projects.The project resolved to assist local authorities in dealing with the growing environmental crisis created due to increasing landfills and dumps posing health and environmental risks to the public and contributing to harmful greenhouse-gas emissions.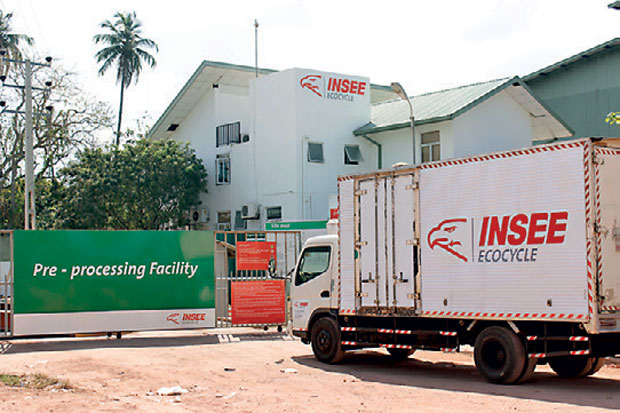 Commenting on the initiatives of Insee Ecocycle, Prof. Lal Mervin Dharmasiri, Chairman of Central Environment Authority, said "Ecocycle supported the national initiative of eradicating plastic, polythene waste and e-waste in Gampaha, Kurunegala and Puttalam districts together with the Central Environment Authority (CEA) in 2016. We appreciate the support extended by them to CEA. Through this partnership, we got to know further about their sustainable PPP model on disposing of non-bio degradable and non-recyclable components of municipal solid wastefrom 2015 to date in both Gampaha and Kurunegala districts, if not where it will be dumped in the landfill affecting the environment".
Sanjeewa Chulakumara, General Manager of Insee Ecocycle said, "We are very happy to partner in solving the national issue via public private partnership. It is a very successful showcase when we look back after 5 years of all our efforts." He further stated, "Our main goals are to structure the waste sector in a sustainable manner as well as to eliminate the environmental damage incurred during the traditional waste dumping processes. With an average 80-100 MT of 'segregated non-recyclable polythene & plastics' collected in the Gampaha and Kurunegala districts, Insee Ecocycle has assisted the local authorities to manage waste in a sustainable manner. The gradual increment of the waste volume disposal trend proves the success of the project".
Insee Ecocycle has been the professional waste management company in the country always helping the nation by managing different hazardous and non-hazardous waste in a sustainable way, mainly through cement kiln co-processing. Insee Ecocycle has co-processed more than 600,000 MT of industrial waste by partnering with over 350 corporates including government institutions in Sri Lanka.
Insee Ecocycle has tried many ways to support the MSW issue since 2011 where their main concern was managing un-segregated waste mix. Unsorted MSW is not permitted for co-processing. Proper segregation is a mandatory requirement before accepting any waste for cement kiln co-processing.
Segregated non-recyclable polythene and plastics waste from Gampaha and Kurunegalais transported by the local authorities to Insee Ecocycle in Puttalam. Therein, it is not disposed separately in an incinerator but 'co-processed' in the cement plant. By co-processing the waste,the volume of CO2 emissions is reduced whilst nurturing the non-renewable fossil fuels and natural resources conservation.
Co-Processing presents an economically viable and environmentally friendly sound waste management alternative to the traditional disposal of waste as it takes advantage of the technology already used for the cement production process.
Commending the success of the project, Chandrani Samarakoon, Provincial Commissioner of the Western Province said, "Managing non-biodegradable waste was a continuous struggle faced by the local authorities. Having understood the systematic and professional processes of Insee Ecocycle, local government department carried out a series of joint awareness sessions together with the support of Insee Cement, in order to ensure waste segregation at local authority level, which became a reality.
"Then four transfer stations were set up in Gampaha district to collect polythene and plastics.Today, this initiative is well in track, minimizing the environmental impacts of waste disposal. Recently with the purchase of 16 more bailing machines, we intend to replicate the same model in the Kalutara district. Gradually the process will be replicated within the entire Western Province and we believe that Insee Ecocycle will continue to offer the same level of professional service contributing towards a waste-free Sri Lanka".
Director of Waste Management Authority (WMA) Nalin Mannaperuma said, "WMA gives utmost importance in inculcating the mindset and establishing the 'Polluter Pay Principle' amongst all sectors. Persuading someone to pay for his or her own waste is a challenge as we have the option of free dumping or burning. We appreciate Insee Ecocycle for stepping forward to establish waste management practices for the corporates. Currently, most of the industries are aware that they have to manage their own wastes. Insee Ecocycle's contribution in creating continuous awarenesshas encouraged the corporates to reduce waste volumes" He further said, "Similarly, Insee Ecocycle is involved in recycling polythene and plastics from municipal solid wastes, in Gampaha and Kurunegala districts. By partnering with Insee Ecocycle WMA intends to reduce waste volumes by 85 percent at a more manageable level through comprehensive waste management programmes".
Theinitiative endorses the commitment by all the partners involved - local authoritiesspearheading the segregation of municipal solid waste,partneringwith the efforts of Insee Ecocycle in adopting best practices to support the government in minimizing environmental impacts of waste disposal. Insee Ecocycle solutions are both sustainable and free of environmental concerns aimed at sustainable construction for Greener
Sri Lanka.