---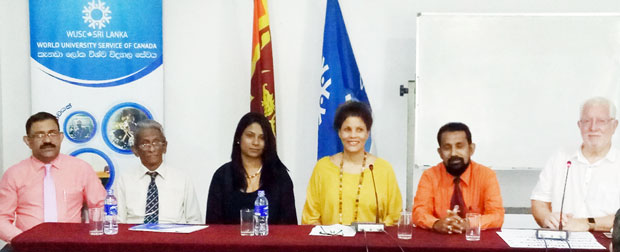 From left: At the CISC work forum: TVET Assistant Director Manjula Vidanapathirana, CISC CEO M.S. Nanayakkara, Insee Cement Sustainable Development and Communication Director Farzana Khan, WUSC Country Director Esther McIntosh, CISC Chairman Deshamanya Sunil Liyanarachchi and WUSC TVET volunteer Bob Turner
Insee Cement, the brand behind leading retail cement products Insee Sanstha and Insee Mahaweli Marine, recently partnered with the Construction Industry Skills Council (CISC) to hold a working forum on 'Strategic Planning for Sustainability as a Corporate Responsibility', promising to build a better future for the nation.

The partnership of the working forum included the World University Service of Canada (WUSC), with Insee Cement collaborating as the Platinum sponsor.

The session, held at the Sri Lanka Foundation Institute (SLFI), was the first of its kind for a skills sector council in Sri Lanka. The session was inaugurated by CISC Chairman Deshamanya Sunil Liyanarachchi and the WUSC Country Director Esther McIntosh. The Assistant Director of Technical and Vocational Education and Training (TVET), Manjula Vidanapathirana and Insee Cement's Sustainable Development and Communication Director, Farzana Khan, together with the Board of Directors of CISC also graced this occasion.

In the opening address, Esther McIntosh drew the attention of those gathered saying: "The Construction Industry Sector Skills Council is vital for addressing the current skills gap in the industry since it allows the private sector to play a leading role in the development and training of Sri Lanka's new generation of
skilled personnel."

Farzana Khan said that: "As the leading manufacturer of cement in the Asian region, Insee focuses on strategic planning that contributes meaningfully to sustainability. This working forum is a fine example of how the industry can maintain an admirable level of quality with long term results for the nation."
CISC CEO M.S. Nanayakkara stated: "Our mandate is to work with educators and Sri Lankans to ensure excellence when it comes to training and employability in the industry. It is commendable of Insee Cement to partner with us in this endeavor, to take CISC's vision and mission to greater heights," he said.

Facilitating the one-day programme, WUSC TVET volunteer Bob Turner, highlighted the skill gaps within sectors while providing a platform to deliberate on key transformation agents within the construction industry from social impact to economic viability, adaptability and capacity to deliver.