---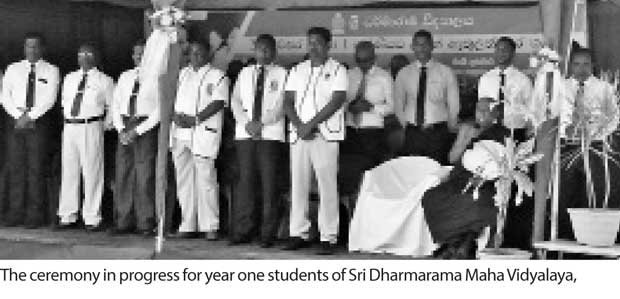 All year one students who began a new chapter in their young lives, at Sri Dharmarama Maha Vidyalaya, Ratmalana, the initial lap of the long journey of education received new school bags with the compliments of Siddhalepa.

As patrons of the school in their neighbourhood, the country's leading ayurveda pharmaceutical manufacturer was part of a group of establishments who provided the year one school children with all the school requirements for their initial year in school.

About 35 new schoolchildren were present at the school premises on January 15th 2018, to receive this complete package which included everything a young school beginner needed in school.

The 140 year old Sri Dharmarama Maha Vidyalaya had experienced gradual deterioration and decline in popularity as a leading school in the city in the past decade. The school furnished with three, three storied buildings as classrooms, two halls, a science laboratory, and a computer room had lost its past glory as a leading educational institution in the city as newer schools in the vicinity overtook Sri Dharmarama Maha Vidyalaya in popularity, facilities and size.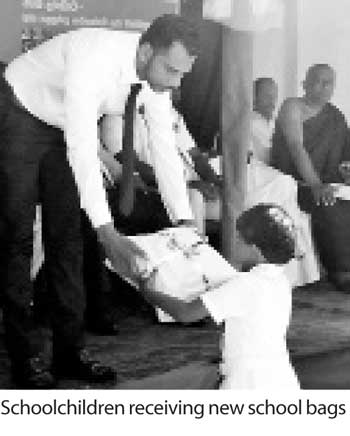 The school which once accommodated more than 1500 students had dwindled to a cadre of less than 100 in recent times. It is under the tenure of the present principal of the school, P.K. Marambage that with the support of the Old Students Association the school is being resurrected to its past status as a leading education institution in the city of Ratmalana.

The Hettigoda Group has been working consistently on several projects to promote children's talent and educate them on the importance of preserving our environment.

Among the national level programmes undertaken by the Hettigoda Group for children is the popular Kekulu Art Competition where pre school children are provided a platform to express their natural talents through this all-island art competition.

The Herbal Garden Project is another project aimed at educating our younger generation on the necessity of protecting our environment and the value of our indigenous herbs in the ayurveda medical industry.

Children's welfare and education is a priority in the company's Corporate Social Responsibility initiatives and the company also manufactures a series of herbal dental care for children and baby care products.