---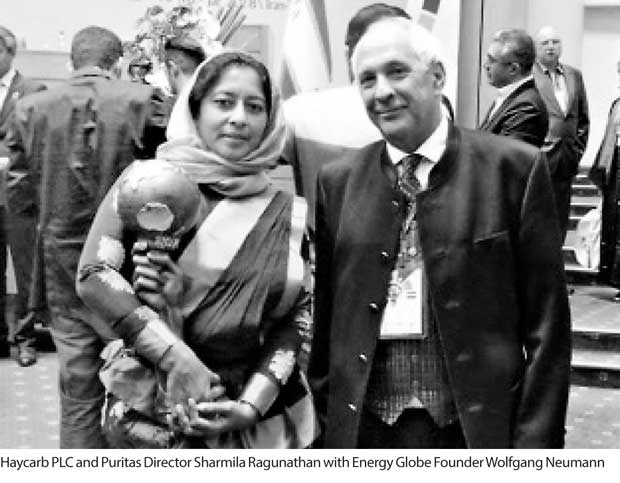 Puritas, a subsidiary of Haycarb Group and a member of Hayleys PLC was announced the world winner in the category of Water, for its acclaimed Hayleys' Puritas Sathdiyawara project for providing clean drinking water to people with chronic kidney disease through its reverse osmosis water purification systems and comprehensive strategic village upliftment.

The first place was tied with the Kerman Copper Region of the Islamic Republic of Iran for its integrated water master plan to provide water for the Sarchechmen mine, which includes an upgrade of tailings disposal and water management system.

Over 2,000 projects from 178 countries were submitted for the prestigious environmental award in five categories: Earth, Fire, Water, Air and Youth. The jury, led by Maneka Gandhi, environmentalist and Indian Union Cabinet Minister for Women and Child Development, selected 16 finalists and awarded the five most outstanding environmental projects.

The award in the category Air went to the Austrian Post for reducing their ecological footprint by replacing conventional vehicles with electric vehicles in their operations. Sustainable Coastlines Charitable Trust from New Zealand received the award in the category Youth for their flagship education center, where pupils, community groups and business are taught to become guardians of the environment. The award in the category Earth went to the Rural Green Environment Organisation from Afghanistan for its efforts to reforest degraded watershed and establish fruit orchards through community involvement in one of the remotest and poorest mountainous valleys. Kalinga Institute of Social Sciences from India received the award in the category Fire. Green initiatives undertaken by this institute have found a great way to reduce the ecological footprint for large scale cooking.

To date Puritas Sathdiyawara provides 160,000 litres of clean drinking water daily to over 33,000 men, women and children across 19 villages in the North and North Central provinces since 2014. Each project is sponsored by a Group Company, and to date, the Hayleys Group has invested more than Rs.63 million in this initiative. It consists of a formalised water distribution network through a bowser and multiple docking stations throughout the village to ensure all villagers have equal access to purified water.

Hayleys Group Chairman and Chief Executive Officer Mohan Pandithage said: "Sathdiyawara, since its humble inception in 2014, has grown to be the heart of our group CSR. I commend the Puritas Team for the incredible passion and love with which they have been driving this initiative and of course the Hayleys Group of Companies who so generously contribute to the growth of this initiative. The teams work with large numbers of villages in the North and North Central provinces, at ground level to identify the most severely affected villages. We have gone above and beyond what we originally set out to achieve, by additionally supporting the communities with livelihood development opportunities. Each time I see the hopeful faces of the beautiful village children and their families, I feel blessed that we have been able to transform their lives and give them hope for a better, healthier future. To me that is the greatest joy, but winning world acclaim for all the unwavering efforts of my team is definitely exhilarating. Well done to the team involved."

Commenting on this outstanding achievement which puts Sri Lanka on the Global Sustainability map, Haycarb and Puritas Managing Director Rajitha Kariyawasan said: "This global recognition is beyond what we had ever envisioned when we started Hayleys' Puritas Sathdiyawara in 2014. Our single-minded focus then and now, lies in eradicating CKD within the country. Sathdiyawara also consciously supports villages whose grim conditions are exacerbated not only by this debilitating illness but also by drought, dry arid conditions including floods, which deny them of basic access to drinking water. We are extremely humbled beyond words that our genuine efforts have received such global acclaim. We thank our Chairman and all the Hayleys Group Sectors who have stepped up to support this project which now has become the flagship CSR endeavour of the Hayleys Group."

Elaborating further, Puritas Director Sharmila Ragunathan, who accepted the award at the ceremony in Tehran and who spearheads the passionate team that leads this initiative added: "This gift of life which we sincerely give to 33,000 Sri Lankans signifies a renewed hope for the future of these families. We do it out of genuine altruism. While winning awards is not the reason behind this endeavour, winning this world award is undeniably, deeply encouraging and has motivated the Puritas Team to persevere and continue this life changing project with renewed passion and enthusiasm."

The international Energy Globe Awards/World Award are presented annually in the realm of a festive ceremony. The three nominees in each category are invited and the winners are announced at the ceremony. Prominent award presenters include Kofi Annan, Michail Gorbachev, Maneka Gandhi (Former Indian Environment Minister), Ahok Khosla (President Club of Rome) the Presidents of the EU Commission and EU Parliament, UNEP DG Achim Steiner and former World Bank Inspection Panel Chief Prof. Edward S. Ayensu. Actors like Martin Sheen, Aamir Khan and Peter Falk (Columbo) presented awards and famous singers like Robin Gibb, Dionne Warwick and Alanis Morissette were guests at the ceremonies.

To safeguard the future of the planet and the right of future generations everywhere to live healthy and fulfilling lives should be a human right for everyone. Energy Globe Founder Wolfgang Neumann has made this goal his lifetime mission. The International Energy Globe Awards/World Award for Sustainability are means to raise awareness on this issue, to showcase best practice solutions from a variety of countries, to motivate people to contribute their share and to convince governments to provide the necessary framework.