---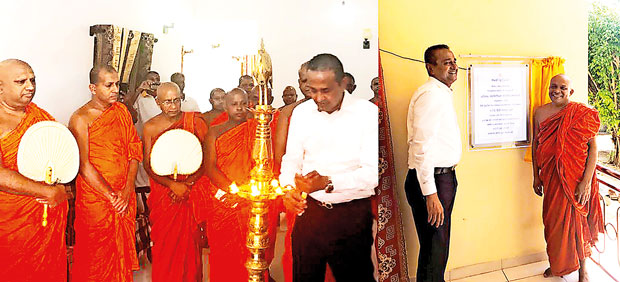 With the pioneering aim to increase accommodation facilities for the Sangha who pursue their education at Kotuwegoda Sri Jayasumanarama Viharaya, Matara, Najeeb Deen, Managing Director of Deen Brothers (Pvt) Ltd completed the first floor of the Sanghawasa with a personal contribution worth over Rs. 4 million along with financial support provided by the residents in the area.

The ceremony to entrust the building was held on the 15th with the participation of Najeeb Deen, Sanath Jayasooriya and the local community.

Ven. Yatigala Somathilaka Thero stated in his address to the audience that Najeeb Deen who works to mould the principles of ethnic harmony set an enormous example to all the races and that this is not the first time he has shown his tendency to assist the temple of the village. Najeeb Deen, the managing director of DBL has involved in various social welfare projects including the construction of a flyover at Matara hospital and making donations to the victims of the floods. His proceedings have accumulated much reputation for him among the people in Matara and throughout the island. Najeeb Deen further added that he had planned to perpetuate similar social welfare projects in
the future.