---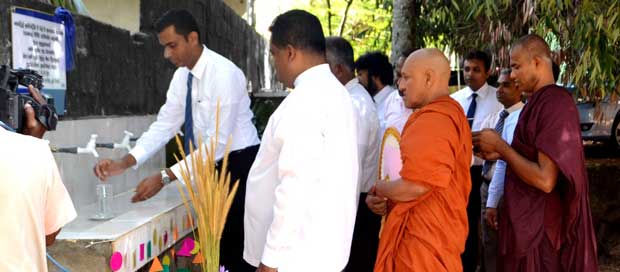 Central Industries PLC, the manufacturer and marketer of National PVC and Krypton electrical switches donated a complete water system to Kuruwamulla Maha Vidyalaya, Wathurugama recenlty.
There are 750 students are studying at Wathurugama Kuruwamulla Maha Vidyalaya. On a request made by Sujith Priyantha Pathiraja, the secretary of the school development society to Central Industries Factory, project was completed.
Sapumal Herath, Marketing Manager (Dealer Network) of Central Industries PLC said, the company is grateful for being able to assist the school by way of supplying water, a basic need for students. "Central Industries is a company that constantly involve in CSR projects aimed at enhancing the status of life of Sri Lankans. The donation we made to Wathurugama, Kuruwamulla Maha Vidyalaya is significant as we have provided water for the benefit of school children who are the future leaders of our country. Their basic needs must be fulfilled for them to have peace of mind to engage in studies", he said.
He added, "Ours is a socially responsible company. We manufacture and market products with high standards that are not harmful for the society and the environment." Ven. Kalawane Ariyagnana Thero, Principal of Kuruwamulla Maha Vidyalaya at Waturugama said, although requests were made by the school to solve its water crisis, many companies did not respond to those requests. "Central Industries is the only company responded positively. All our students, teachers and parents pay their heartfelt gratitude to Central Industries PLC for their noble contribution", said the Thero.
Commissioned in 1985 Central industries PLC is a subsidiary company of the renowned finance company in Sri Lanka; Central Finance PLC. Central Industries PLC is the first company in the country to receive SLS 147 and SLS 659 standard certifications from the Sri Lanka Standard Institute for PVC pipes and fittings. 'National PVC' is the first PVC pipe brand name in the country to receive ISO 9001 certification. National PVC is among the most valuable brands in Sri Lanka compiled by Brand Finance.
The company enhanced its product portfolio subsequently from PVC pipes and fittings to add electrical switches and sockets with 'Krypton' brand.
Central Industries PLC is the sole agent for Hitachi power tools and accessories in Sri Lanka.