---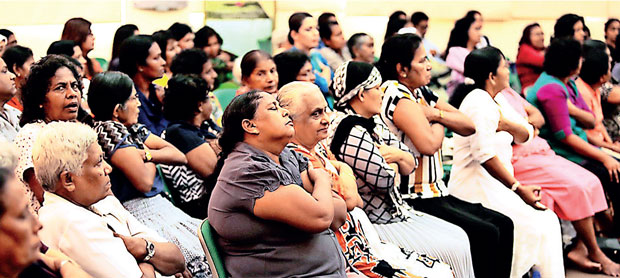 The Can-Sur-Vive Trust of Sri Lanka in collaboration with the Jetwing group will conduct 'Can-Sur-Vive' (Apekshawaka Udawak) corporate social responsibility (CSR) programme for the sixth occasion on June 4, 2017 at 8:00 a.m., at Lanka Hospitals, 10th floor auditorium.
The programme is conducted free for women who are mainly under medication for breast cancer, cervical cancer, and gynecological cancer. They can now call the hotline 0713 161616 and register for the programme free.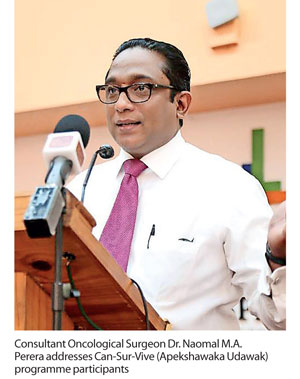 The workshop will comprise lectures by consultants, including well-known clinicians, psychologist, occupational therapists, physiotherapists, sociologists while financial advisors, clergymen will discuss the main issues and challenges faced by the survivors.
The CSR focuses on reinstating lost zeal of cancer patients/survivors while uplifting the status of emotional, psychological and societal well-being of the survivor.
A 'survivor' is a past-patient who has finished active treatment. The Can-Sur-Vive programme invites survivors as well as newly diagnosed breast cancer patients who are presently
on treatment.
The workshop also aims at educating the survivors of breast cancer on medical, physical, financial, spiritual and other related issues pertaining directly to a cancer survivor's well-being while enhancing the survivors' and family members' self-confidence.
Breast cancer, the top cancer in women worldwide is increasing particularly in developing countries like Sri Lanka where the majority of cases are diagnosed in late stages. Cervical cancer is the second most common cancer among Sri Lankan females. However, with early detection and treatment, all cancers can be cured and managed.
In Sri Lanka there is poor attention towards survivors of cancer including counselling. In certain instances survivors have contracted cancer again due to negligence and lack of proper medical advice. Hence, this endeavour by the Can-Sur-Vive Trust is of vast importance as far as the Sri Lankan medical sector
is concerned.
The Can-Sur-Vive (Apekshawaka Udawak) programmes held previously saw specialists and resource persons dedicating themselves towards uplifting physical, mental, spiritual and even financial well-being of survivors of cancer.
The Can-Sur-Vive programme will also provide 'new hope' to cancer patients via survivors who lead healthy lives at present. There is a false opine in the society, cancer is a deadly ailment. Can-Sur-Vive aims at countering such negative opines. Diagnosis at the early stages can rid any patient of cancer threat. Can-Sur-Vive Trust with this CSR is poised to communicate to the whole country, cancer can be cured.
Jetwing Group Chairman Hiran Cooray commenting on the Can-Sur-Vive (Apekshawaka Udawak) programme said the Jetwing group is sponsoring this noble CSR venture for the fourth occasion.
"Many people in our country are scared even to talk on cancer. Yet cancer can be detected early and cured. A vast number of patients and survivors attending the previous Apekshawaka Udawak programme was testament to that. I must appreciate the dedication, efficiency and expertise demonstrated by the Can-Sur-Vive Trust to launch this project. I invite as many as female cancer patients and survivors to attend the forthcoming programme and gain happiness in life," he said.
The Jetwing Hotels group is the only hospitality brand in Sri Lanka that has three female general managers working for the group. It is the sole sponsor of the Can-Sur-Vive (Apekshawaka Udawak) CSR programme organised by the Can-Sur-Vive Trust of
Sri Lanka.