---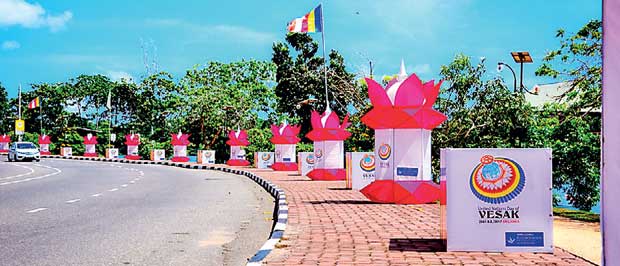 The United Nations Vesak Day will be celebrated in Sri Lanka this year with the participation of Buddhist leaders from around the world, making it a landmark celebration.
The three-day celebration will begin on 12th May in Colombo. Vesak marks the birth, enlightenment and the attaining nibbana of the Buddha. The significance of Vesak lies in the Buddha's teaching of cessation of suffering and universal peace to all humankind. It is a message of peace and perfect harmony between human beings and nature.
The United Nations General Assembly accepted the importance of Vesak and in 1999 by a resolution acknowledged that Buddhism as one of the oldest religions in the world contributing to the spirituality of humanity for over two-and-half millennia and will be commemorated annually at the United Nations Headquarters and UN Offices. In 2017, United Nations International Day of Vesak will be hosted by Sri Lanka under the theme 'Buddhist Teachings for Social Justice and Sustainable World Peace'.
The events include an International Buddhist Symposium with the participation of over 400 delegates from 100 countries. Indian Prime Minister Narendra Modi and the Nepali President Bidya Devi Bhandari will be attending the UN Vesak Day celebrations in Sri Lanka.
Sri Lanka's foremost real estate major, Blue Mountain, is stepping forward to be a part of the landmark UN Vesak Day celebrations. The world-class real estate developer is proud to partner with UN Vesak Day celebrations with their humble contributions by placing over 600 lanterns on either sides of Japan Friendship road and Denzil Kobbakaduwa mawatha, since the roads lead to the venue of the UN Vesak Day celebrations. The 6-feet tall lanterns in the shapes of lotus flowers and stupas (daagaba) will be placed at every six metres, illuminating a distance of over 6kms to light up the streets and spread the joy of Vesak which will be witnessed by all the dignitaries.
Commenting on the gesture, Dr. Hiran Hettiarachchi (MBBS-Colombo & MBA-Australia), Group Chairman of Blue Mountain, said, "Blue Mountain is privileged to participate in the historic UN Vesak Day celebrations in May this year. As a home-grown local company constructing world-class real estate projects, Blue Mountain is proud to make a contribution to the rising profile of Sri Lanka as an important investment destination. We are proud to engage in spread light during the celebrations and we invite the public to come and embrace the Vesak atmosphere and the joy of Vesak at the UN Vesak zone."
Blue Mountain Apartments has built a reputation for offering conveniently located luxury apartments at reasonable prices. It is a key subsidiary of the Blue Mountain Group, which is recognised as one of the country's most reliable and trusted real estate companies with diversified interests extending across the areas of land sales, apartment development, construction and health and fitness.