---

With the disasters that arose in several parts of the country, Arpico CSR was activelyinvolved in helping those adversely affected by floods and landslides.
On the guidance of Richard Pieris & Company PLC Group Chairman Dr. Sena Yaddehige, the Arpico CSR team executed relief efforts by distributing goods and dry rations worth over Rs.32 millionto 5000 families in the worst affected areas located mainly in Kalutara, Matara and Rathnapura.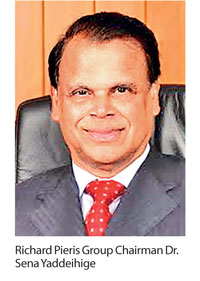 Relief efforts were conducted together with media and armed forces, distributing goods directly to the people in affected areas. A variety of goods including dry rations, milk powder, biscuits, tea, disinfectants (Dettol/Harpic), sanitary napkins, Panadol, Siddhalepa, pain killers and more were dispatched over a week long process to more than 5000 families affected in 75 Grama Niladhari divisions.
Further to this as advised by Group Chairman Yaddehige, Arpico also assisted the Sri Lanka Government's relief efforts. It was announced during a media briefing held on 30th May at the Tourism Ministry that the company will contribute to the flood relief efforts of the Sri Lanka Tourism Ministry, which was appointed by the government as the main provider for relief activities for the Kalutara District. Arpico handed over 500 mosquito nets and 500 journey mats to Tourism Minister John Amaratunga, at the Prime Minister's Office to be distributed to those adversely affected in the Kalutara area.
Arpico, being a deep rooted company in the country, which has touched the lives of many Sri Lankans for over 85 years, considers it important to support the nation at this time of need especially considering those citizens affected by the disasters.