---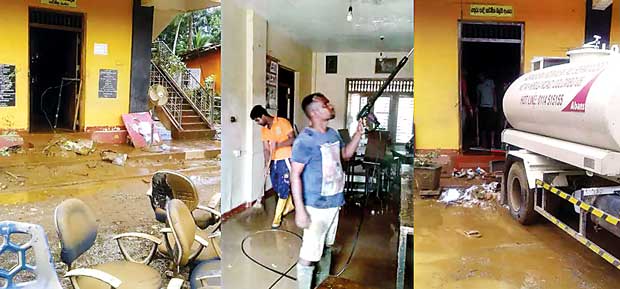 In response to the marked need exhibited by communities displaced due to the recent torrential rains and mudslides, Abans Environmental Services has undertaken an active integral role in providing assistance to flood-affected areas.
The company is currently conducting a full-scale initiative that offers humanitarian relief to residents situated in the worst-afflicted regions including the Galle district – Thawalama Divisional Secretariat and others.
Using bowsers outfitted with high pressure water guns, employees from Abans Environmental Services have steadily worked to remove debris and waste materials scattered by flood-water, and clean up several public spaces such as hospitals, police stations, and schools. Plus, Abans Environmental Services has also offered personal clean-up services free-of-charge to homeowners who have been affected by the floods to help render their homes both livable and usable. By conducting these services, Abans Environmental Services aims to kick start the process of flood recovery and rehabilitation in our fellow communities.
Established in 1985, Abans Environmental Services (Pvt) Ltd has solely focused on providing customers with consistent and efficient services of the highest standard. The company has also maintained the position of market leader for janitorial and related services in Sri Lanka since 1994. Additionally, AES emphasizes administering flexible and effective cleaning solutions with a high degree of professionalism, having set new standards for cleaning services across the country. Abans Environmental Services is also the leading facility management services provider for apartment complexes, commercial establishments, and government institutions.
The company presently offers the following services that provide ease and convenience for customers, such as, solid waste management, facility management, janitorial and housekeeping services, tea service, pest control, and hygiene management.
If you or your community require any further relief assistance, contact 5 555 888 and our team will arrive at your doorstep to provide you help and support in your time of need.