---
Every year over two million people make the 2,200 metre climb to the holy peak of Sri Pada and leave behind a mountain of trash.

For the last several years environmental teams from MAS facilities across Sri Lanka have been making the same journey as soon as the season closes, but for a different kind of journey – to clean up this massive trail of trash. Each year these small teams collect over 500 kilos of trash on every climb.

In March this year, MAS began a conversation with Rhythm World to participate in a massive project at the close of this year's season. "Piwithuru Karunawa" was organised by TNL Rhythm World and executed by MAS employees recently.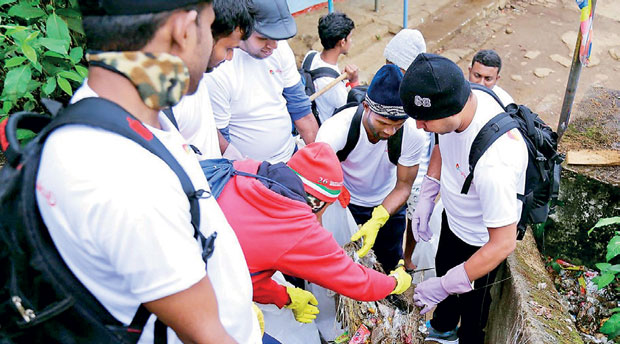 Experienced teams removing long forgotten waste embedded into the masonry
750 people turned up from MAS, fully understanding the task in front of them - to climb the mountain from midnight and reach all the designated parts of the mountain.

Five teams climbed all night and cleaned all day to collectively gather three metric tonnes of garbage – most of it made up of plastic bottles, polythene bags and toffee wrappers. It is billed as one of the most successful large scale clean-up operations at Sri Pada in recent times.

All of the collected waste was handed over to Ambagamuwa Pradeshiya Saba who segregated the waste for recycling by the relevant vendors.