---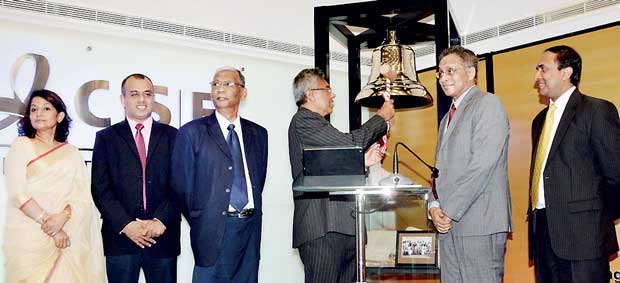 DCSL Alternate Director Amitha Gunaratne ringing the ceremonial bell signifying the opening of trading at the Colombo Stock Exchange. Also in the picture from left: DCSL Human Resource Head Gayathri Chakravarthy, DCSL CFO Cleetus Mallawarachchi, DCSL CEO Maximum Peries, CSE Chairman Vajira Kulatilaka and CSE CEO Rajeeva Bandaranaike


Distilleries Company PLC (DCSL), as the single largest shareholder of Pelwatte Sugar Industries at the time of its expropriation, is optimistic that the compensation tribunal, appointed by the state in 2014 to assess the compensation packages that should be awarded to shareholders, will complete its work shortly.

"They have appointed a compensation tribunal but no possible compensation has been paid yet. They're trying to assess the value of the compensation amount. I suppose it will be done soon, because 3000 shareholders are waiting," Chief Financial Officer Cleetus Mallawarachchi said.

Pelwatte was incorporated in 1981 as a state-owned corporation to reduce the country's dependence on imported sugar. It was quoted on the Colombo Stock Exchange in 1984.

In March 2002, Master Divers (Private) Limited owned by entrepreneur Ariyaseela Wickramanayake purchased 53.5 percent of the shares and upped its stake gradually over 80 percent.

In March 2011, DCSL purchased 47.02 percent of the shares in Pelwatte from Master Divers and for the quarter ending September 2011 posted a net profit of Rs.857.85 million, which was a 342 percent year-on-year growth.

"For the first eight months we were very successful," DCSL Alternate Director Amitha Gunaratne said.

DCSL's acquisition was to promote synergies created with Pelwatte Sugar Distilleries (Private) Ltd, which produces sugar molasses required for DCSL's core operations.

However, an Act passed in Parliament in 2011, which was commonly referred as expropriation laws, which in general aimed at state-owned enterprises, controversially targeted Pelwatte and its subsidiaries, as well as Sevanagala Sugar Industries, with the state taking over operations, without compensation.
Mallawarachchi said that a fair share price is being calculated by the government.

The market capitalization of Pelwatte had been estimated at Rs.2.38 billion as at September 2011, while the group had a stated capital of Rs.679.77 million, reserves worth Rs.2 billion and accumulated losses of Rs.1.27 billion.

Mallawarachchi said that the state is also attempting to evaluate the compensation on profits that should have been paid to DCSL during the period it owned Sri Lanka Insurance Corporation (SLIC).

DCSL purchased a 90 percent share in SLIC in 2003. However, a 2009 Supreme Court ruling reversed the sale citing the privatization process illegal. The Treasury was instructed to repay over Rs.6 billion as the purchase price of SLIC to DCSL, which has been done in installments.

However, the profits during the ownership period, which the Court instructed that DCSL could retain, were not paid back by the state.

"The profits have not been paid yet. They need to have a definition of profit, because that has not been defined by the Supreme Court. It says for the profits earned during our management to be reimbursed. So it can be capital profits or revenue profits. They'll calculate and make the compensation," he said.
---
Ups Aitken Spence stake by 2%

Meanwhile, DCSL, through its subsidiary Melstacorp Limited increased its shareholding in blue-chip conglomerate Aitken Spence PLC by 2 percent last week for a consideration of Rs.735 million.

The seller of the shares is believed to be the foreign fund Aberdeen, which has about a 15 percent stake in Aitken Spence through a few accounts.

However, the move came as a surprise as both DCSL and Aitken Spence are firmly under the control of business magnate Harry Jayawardena.
Melstacorp as at March 31, 2015, held 41.23 percent of Aitken Spence, while Rubicond Enterprise Limited, a company believed to be connected to Jayawardena, held 16.25 percent.

"In the coming months we'll have political stability because the new government will have a five-year period. It's time to invest and we will continue to invest in the Colombo Stock Exchange," DCSL Alternate Director Amitha Gunaratne, who is also the Managing Director of Melstacorp, said.

He said that in the future, DCSL will invest in companies that specialize in managing industries, instead of starting new ventures outside its area of expertise.
However, DCSL in the past has diversified into investments, finance, plantations, telecommunications and leisure successfully. (CW)

---
---
Add comment

Comments will be edited (grammar, spelling and slang) and authorized at the discretion of Daily Mirror online. The website also has the right not to publish selected comments.

---