---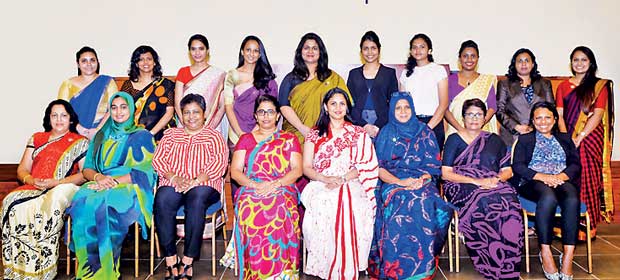 Seated from left: Vijitha Weerasinghe, Secretary/Expo Consolidators (Pvt.) Ltd Head of Expo Rail Amra Zareer, Vice Chairperson Membership Services and Education/Visiting Lecturer/Education, Management and Training Consultant Dr. Priyangani Jayasundara, Co-Founder and Immediate Past Chairperson, Management Consultant and Lecturer Gayani de Alwis, Chairperson Commercial and Marketing Manager South Asia Gateway Terminals Dhashma Karunaratne, Vice Chairperson Membership Development/Expolanka Freight (Pvt.) Ltd Director Transportation Niroza Gazzali, Vice Chairperson Sponsorships and Brand Building/McLarens Shipping General Manager Documentation and Training Anoma Ranasinghe and Gayathri Karunanayake
Standing from left: Gayara Jayasuriya, Wasanthi Vithanage, Kasuni Ahangangoda, Sajuni Wasage, Ruchithra Yogananda, Semini Dissanayake, Kithmini Gamage, Shakkya Perera, Maithree Attanayaka and Manjari Nigamuni
Not in photograph: Namalie Siyambalapitiya, Namali Sirisoma, Sriyamal Gamage and Anushka Weeraratne
Women in Logistics & Transport (WiLAT) Sri Lanka appointed its new Chairperson Dhashma Karunaratne for the year 2017 at the fourth annual general meeting held recently at the National Chamber of Commerce auditorium, amidst a large gathering of the industry's eminent personalities.
Karunaratne takes the helm from the outgoing WiLAT Co-Founder and Chairperson Gayani de Alwis and will execute WiLAT's advocacy initiatives, working closely with its parent body Chartered Institute of Logistics and Transport (CILT) and Global WiLAT Forum. In her professional career, she has held diverse roles, including corporate finance, business strategy, management accounting and distributor and project management.
In her current role she contributes towards the execution of the commercial and marketing strategy of the South Asia Gateway Terminals of Port of Colombo and drives initiatives for business growth integrating contractual performance monitoring and compliance.
She is a member of CILT and is currently serving as a member of the CILT council. She has been an active executive committee member of WiLAT Sri Lanka since its inception in 2013 and has been serving as Vice Chairperson for Branding and Promotions since 2016. She has successfully executed effective programmes to promote and position WiLAT as an integral part of the industry and economy.
Anoma Ranasinghe, Niroza Gazalli and Dr. Priyangani Jayasundara were elected as Vice Chairpersons and they bring with them a wealth of experience and knowledge of the industry. The newly-appointed WiLAT Exco will together stand stronger as a leading female advocacy group in Sri Lanka and the region.
The keynote speech was delivered by APL Lanka Limited Managing Director Kingsley Abeywickrema on the theme 'Future outlook of the maritime industry'. He highlighted that all activities relevant to the maritime industry will be automated and integrated in the near future and concluded that Sri Lanka should focus on opening more principals' offices and continue to develop our ports and other infrastructure to be more competitive with other countries in the region.
de Alwis in her speech thanked the past committees for supporting her during her four-year tenure and wished the newly elected chairperson and her committee and mentioned that she hopes WiLAT Sri Lanka will continue the efforts and be the shiniest diamond in the global CILT crown.
She added that at a time when WiLAT Sri Lanka is in a very strong position, she is confident that the new committee under the able leadership of her successor would be able to translate vision and strategy into world- class execution and bring together all females in the logistics and transport industry to create value to the economy.
Karunaratne concluded by stating that standing together in one spirit, contending as one for the empowerment of all women is what she would strive to pursue during her tenure.
The key feature of this year's newly elected council is the presence of women from all sectors (aviation, maritime, land transport and supply chain) of the logistics and transport industry and representation from academic institutions. In order to attract millennial, a young female student representative, each from the four universities offering supply chain and logistics degree programmes were co-opted once again.