---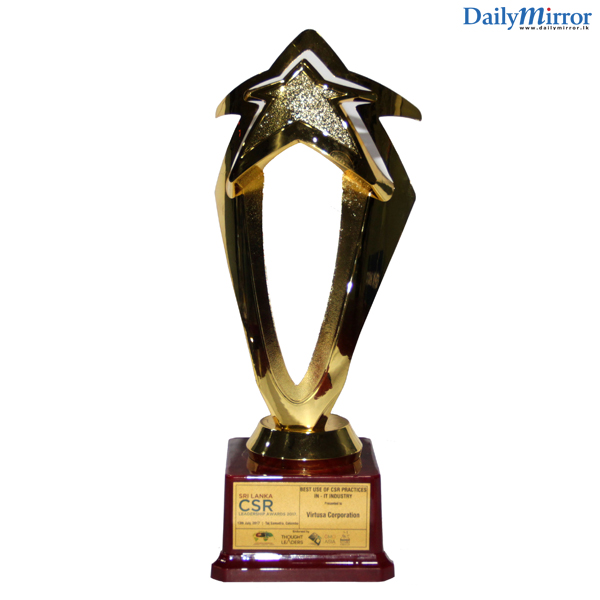 Virtusa Corporation (NASDAQ GS: VRTU), a global business consulting and IT outsourcing company that accelerates business outcomes for its clients, received the award for Best Use of CSR Practices in the IT Industry at the Sri Lanka CSR Leadership Awards 2017 held at the Taj Samudra recently. The award is in recognition of the company's strategic CSR initiatives under Tech Reach, Campus Reach and Digital Reach to improve IT literacy and utilize software development for social benefit.
Commenting on theaward Denver DeZylva, vice president at Virtusa, who has initiated the company's strategic sustainability projects, said, "Corporate Social Responsibility (CSR) is part of our DNA and culture, andwe are committed to provide long term value to our communities. As such, we have created the three pillars of Tech Reach, Campus Reach and Digital Reach to focus our CSR efforts in a strategic manner. The pillars link our community outreach to our core competency of technology expertise and software development. We are pleased to seeour efforts acknowledged and awarded at this forum."
Virtusa's three pillars allow them to help those in immediate need as well as create a strategic long term value for the nation. The Tech Reach initiative, which was initiated in 2005, with a focus on utilizing its team members' core skills of software development to support urgent social projects; Campus Reach, which was initiated in 1998, focuses on growing and supporting the IT industry in Sri Lanka and India; and Digital Reach program, started in 2009, focuses on taking IT to the grassroots level.
"It is an honor to be recognized at this prestigious forum. This award emphasizes the importance we place on our CSR initiatives and how deep rooted they are in our core business strategy and values. It is also a testament to the talent and determination of our teams that drive these solutions, sometimes in record time, for the social benefit of local communities. Their tireless efforts push the boundaries of what is possible and envision a brighter, digitally connected future for the betterment of our nation," said Chamindra de Silva, vice president - Technology and Tech Reach leader.