---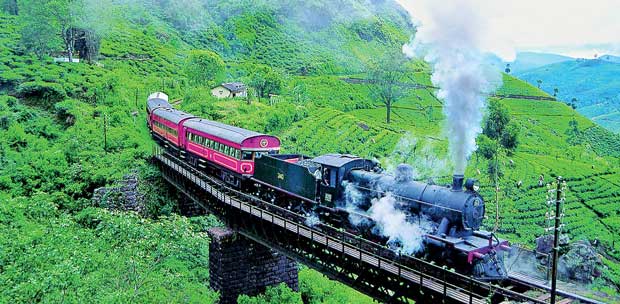 By Lahiru Pothmulla
The Railways Department said JF Tours and Travels (CEY) Ltd, which operates the 'Viceroy Special' tourist train with a steam engine, has assured to settle the due payments to the department.
It rejected the allegations levelled by some of the trade unions that the train is being operated without supervision or approval. Additional General Manager Operations H.M.T.N. Nalaka Bandara said the agreement signed between the department and private company had been renewed regularly but the train had been operated without an agreement from 2005 to 2008.
"The audit officials had initially found that the company owes Rs.9.7 million to the department during the years. However, it had later on found out bills worth Rs.7.7 million paid by the company. Today, the company only owes Rs.2 million and it had promised to pay the amount once the audit officials finalize the due payments," he told a news conference held in the Viceroy Special train recently.
Bandara rejected the allegations of some of the railway trade unions that the train had been operated without proper supervision of the department.
"We keep records of all trains and their destinations. There is no way a train to be operated without our approval," he said.
Meanwhile, JF Tours and Travels (CEY) Ltd Managing Director Pavithra Fernando said the majority of trade unions are aware of the real situation and it's only a couple of trade unions with vested interests voice against their train service.
"We have generated about Rs.100 billion to the Railway Department during the last decade from our train services. The foreign revenue collected by the country is about Rs.300 million with all facilities including accommodation provided to foreign tourists," he said. He said they are operating the train on loses but added they are determined to contribute to the tourism sector, which is booming, and to increase their income gradually. The colonial era train-based tourism is a brainchild of enthusiast Hemasiri Fernando and British travel journalist Clifford John. Commenting on the allegations, National Railway Services Union Secretary Nihal Gunaratne said a few trade unions spread lies misusing the freedom of speech enabled by the news government.
"These union members kept silence when there were frequent frauds at the department during the previous government's tenure," he said. He said there were several issues related to the agreement signed with the companies which operate Rajadhani Express and Expo trains but no such issue with JF Tours and Travels (CEY) Ltd.
"JF Tours has agreed to settle the due payments and in case they didn't, the department can take action," he said.